Best PS5 keyboard and mouse combo 2023 (Budget, High-End, Mechanical)
Checking out the best PS5 keyboard and mouse combos
Updated: Jan 3, 2023 3:09 pm
Although the weapon of choice for console gamers remains the trusty controller, some are opting to switch to the keyboard and mouse, especially seeing as some games on the PS5 games support mouse and keyboard input.
Though many remain loyal to the controller, which has the edge on beat-em-ups, racing games, platformers and the like, there is no doubt that the keyboard and mouse gives huge advantages in FPS games and others in terms of speed and accuracy of aiming, and greater finesse of control. This is particularly valuable for games like Warzone, Overwatch, and Apex Legends.
This being the case, we've drawn up a shortlist of the best keyboard and mouse combos for PS5 currently available. Our list has been compiled based on a selection of criteria that covers price, responsiveness, build quality, and design.
NOW READ: PSVR 2 release date
Bear in mind that these are only the best examples that we know to be compatible with the PS5 at the time of writing, there may be combos we would normally prefer which work with the PS4 for example, which currently do not function on the PS5. It is likely that over the next year or so the list of compatible keyboards and mice will expand for the PS5 with further software updates.
---
01
The best of the best
Razer Turret Mechanical Keyboard And Mouse
02
The runner up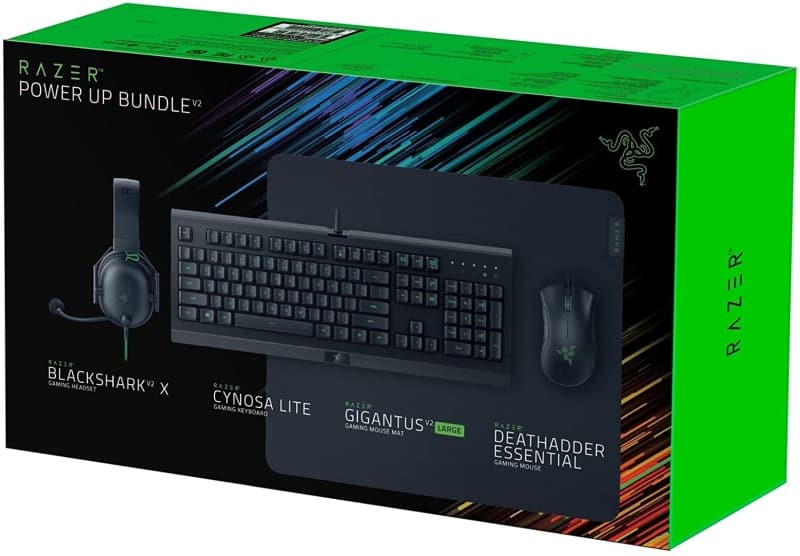 03
THe best budget PS5 keyboard and mouse combo
Reddragon K555-RGB-BA Mechanical Gaming Keyboard and M710-RGB Gaming Mouse
---
PS5 keyboard and mouse connectivity
Luckily, the PS5 can work with wired, Bluetooth, and 2.4GHz keyboards & mice. This expands your options to cover most gaming peripherals out there. However, it's never that simple and only some keyboards and mice have been guaranteed as compatible with the PS5. We've got an up-to-date list for you below, and, with any luck, your existing keyboard and mouse might work straight out of the gate.
How to use a mouse and keyboard on PS5
Unlike the PS4, which only had two USB 3.0 ports on the front of the console (the pro version has a third on the rear), the PS5 has 1x Superspeed USB C and 1x High-speed USB A ports on the front and 2x USB ports on the back. This means you should have ample slots available to plug in your cables, wireless dongle, and even a headset.
This means that using a PS5 keyboard and mouse combo amounts to plugging them in they're wired, or pairing them if they're a Bluetooth keyboard and mouse. You'll also have to select them in settings. We've actually written a full guide on how to do this that you can find below
Bluetooth connection at present does not work for wireless headsets, which is a shame as the PS4 did have this feature. Fortunately however Bluetooth coverage is a feature for mice and keyboards on the PS5, assuming the products you are using are compatible with the console.
PS5 keyboard and mouse compatibility
Before purchasing a keyboard or mouse to use with the PS5, you should first check that they are indeed compatible. Even if you successfully used a keyboard and mouse with your PS4, there is no guarantee that it will work on the PS5, indeed, the list of peripherals that work with the newer console is relatively limited at present.
The PlayStation 5 is quite new though, and it may be that software updates in the future add support for existing peripherals that do not currently work, as well as newer keyboard and mouse releases in the years to come. It's worth mentioned here that despite the higher number of USB ports on the PS5 when compared to that of the PS4, a USB hub might be worth considering so you can continue to charge controllers, or play games from a USB hard drive. We've made a list for you that can be found down below.
All of the mice and keyboard recommendations selected on this page are compatible with the PlayStation 5 at the time of writing. Below is a list of all mice and keyboards that are known to be compatible with the PS5 so far:
Keyboards compatible with PS5
Apple Magic keyboard
Anker Ultra-Slim BT
Artek HB030B Universal Slim
Corsair k95 RGB platinum
Ducky One 2 Mini
Epomaker SK61s
Glorious GMMK
Hewlett Packard
HyperX Alloy Origins
iclever IC-BK10-Bluetooth
IKBC S200
Keychron K2 – Bluetooth
Leopold FC660M
Logitech Comfort Wave MK550
Logitech G613
Logitech K295
Logitech K340
Logitech K345
Logitech K360
Logitech K380 Mult-Device
Logitech K400 Series
Logitech K740
Logitech K780
Logitech K810
Logitech PS3 Media Board – Bluetooth
Logitech Mk735
Logitech MK270
Logitech MK295
Logitech MK470
Logitech MK735
Logitech MX 5000
Logitech G613 Lightspeed Wireless
Microsoft Wireless Keyboard 2000
Rapoo E9100M
Razer Blackwidow v3 TKL
Razer Cynosa Lite Keyboard
Razer Huntsman Elite
Razer Turret Wireless Keyboard
Redragon K555-RGB-BA
Royal Kludge RK61
Royal Kludge Sink87
Steelseries Apex Series
Techta Mini Wireless RGB 2.4G
Mice compatible with PS5
Coolermaster MM710
Corsair dark core pro RGB
Corsair Harpoon Wireless
Logitech G Pro
Logitech G203
Logitech G305
Logitech G502
Logitech G600 MMO
Logitech G603
Logitech G604
Logitech G703
Logitech G903
Logitech MX Anywhere 2S
Logitech MX Master 2S
Logitech MX 5000 (combo M&K)
Logitech MK270 (combo M&K)
Logitech Mk735 (combo M&K)
Logitech MX
Logitech MX 20X
Microsoft Sculpt Comfort
Razer Basilisk Ultimate
Razer Deathadder v2 pro
Razer Mamba
Razer Turrent Wireless Mouse
Razer Viper Ultimate
Redragon M710-RGB
Redragon M908
Steelseries Rival 3
---
How we choose the best PS5 keyboard and mouse combo
Generally speaking, we'll usually have had time to get properly hands-on with the products we recommend. When that isn't possible we use a mixture of primary research, other reviews, and qualitative resources such as Reddit and other editoerial outlets.
Bear in mind that we won't simply be recommending the peripherals from the best gaming keyboard and best gaming mouse pages as they might not be compatible with the PS5, or might not suit a console application.
Things to consider when picking a PS5 keyboard and mouse combo
Below is a brief summary of what you should think about when deciding upon a mouse and keyboard for PS5. A more in-depth list of these parameters and more is available on our Best Gaming Keyboards and Best Gaming Mice guides; we would encourage you to have a read of both Things To Consider sections of these guides before making a decision on a purchase.
Buttons & macros
Beyond some very limited tinkering, macro functionality and button assignment is much more limited on consoles compared to the PC, and you will not get access to dedicated peripheral management software for a mouse and keyboard.
As a result, you probably won't need a mouse with a vast array of buttons on it, as there isn't the ability to bind as many functions to them. The other features below tend to be more of a priority.
One of the few things you can do on the PS5 is set a fast repeat macro to one of your keyboard keys. Simply go to Settings > Accessories > Keyboard and set Key Repeat (Delay) to short and Key Repeat (Rate) to fast.
Build quality
Relatively self-explanatory, if you're paying for any mouse or keyboard, but particularly for expensive ones, you want to make sure they last. The best gaming mice can cost over $100 and keyboards significantly more than this.
All of the selections we've chosen have been tested for robustness and longevity. And whilst not all of them are what we class as, "premium build quality", they are all at least adequate relative to their respective price.
Things to consider when picking a mouse for PS5
Sensor & CPI / DPI
The most important component in any mouse is usually the sensor it comes with, located on the bottom of the mouse. This is the chief determinant of the accuracy of the mouse and its responsiveness to the user's movements. If you're a fan of First Person Shooter games, you generally want to prioritize the sensor above everything else to give you the edge when it comes to making snapshot reactions. With slower-paced games such as RPGs / adventure games / MMOs or strategy games, you generally won't need to bother spending money on the best sensor.
Counts Per Inch (CPI) is the correct measurement of a mouse's maximum sensitivity, although the incorrect label DPI (Dots Per Inch) is sometimes used. Either way, they essentially stand for the same thing, that is the number of base units (counts) that the mouse uses to measure distance which are registered when you move the mouse one inch. The higher the CPI the greater the potential sensitivity of the mouse (obviously this can be set lower in your settings). Mouse gamers typically won't exceed 1,200 CPI in contemporary gaming, so this is a good ceiling to aim for.
Ergonomics: Shape, size, and weight
The second most important consideration when buying a mouse is whether its shape, size, and weight suits your hand and grip. There are generally a few different options to cater for all needs and it's hard to give a definitive recommendation as everyone has different subjective preferences – try before you buy, if possible, is usually the ideal option.
Typically we would say get a shape that feels nice in your hand for most gaming styles – one that you can get used to. You could opt for more specialist designs to cater for particular games, but that's more money and more mice for your muscle memory to learn.
If you are looking to play competitive shooters (Call of Duty, etc) we advise choosing a gaming mouse that is lightweight. A lightweight mouse will improve your reaction time and let you game for longer due to the reduced stress and strain on your hand and arm.
Finally, we'd suggest going for a mouse that is either left or right-handed, depending on your needs, rather than an ambidextrous one. This is because mice catering for one hand only are usually more ergonomically designed to fit your hand better.
Things to consider when picking a keyboard for PS5
Form factor
'Form factor' essentially means the size of a keyboard size and the number of keys it has. Smaller keyboards have less functionality but can be ergonomically preferable – reducing the travel time needed between each keypress and the exertion on your hands over time as well as the desk space taken up. Smaller-sized keyboards can also be good for gamers by reducing the chance of key mistyping by removing unnecessary keys that might get in the way and also make the keyboard more portable.
The three main form factors for keyboards, in descending order of size are:
Full-size keyboards – self-explanatory
TKL (TenKeyLess) keyboards – the numpad section from the right side is removed
60% size keyboards – the direction arrows are removed, and the F keys and function keys (ins, home, del etc.) are merged with other keys on the keyboard, so you lose no functionality.
40% size keyboards also exist as a smaller size, but we wouldn't recommend these as the level of functionality that you lose from the decreased size is not worth it in our opinion.
Switches
Two main types of switch technology exist: membrane and mechanical, with the latter usually being the preferred type for gamers. Switches are found under each of the keys on your keyboard and are the mechanism that sends the keypress signal to the PC/console.
Mechanical switches make more noise but have a better tactile response (i.e. you know when you have pressed the key enough to cause the desired action) have a lower travel time and a more rapid actuation – increasing the user's response time. There are various types of mechanical switches, each with different levels of resistance and tactile response, depending on your preference. You can read more about these here.
Membrane switches may still be preferred however by those who are looking for a more quiet typing experience (without the clacking noises), and who want to use the keyboard for non-gaming typing as well and prefer the spongier feel for this.
It is likely that most of the keyboards we recommend here will be mechanical, but if you have a membrane switch keyboard that you know works – give it a go, the difference between the two can be overstated.
---
The best PS5 keyboard and mouse combos 2022
Now we've looked at what we need to look at, let's get to the good stuff.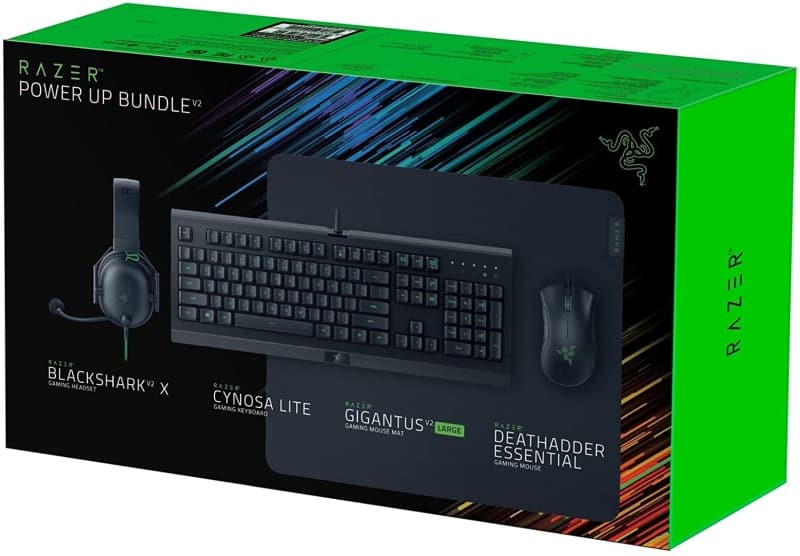 Mouse
DeathAdder Essential
Mouse pad
Gigantus V2 (Large)
Includes headset and mousepad

Everything you need to get started

High-quality
Razer Cynosa Lite
The Cynosa Lite keyboard is a plastic build, full-size laptop. It has the barest minimum RGB in the form of the logo at the bottom of the board and fairly dim backlighting through the lettering on the keys. The board uses membrane switches rather than mechanical, which may not be to everyones' taste, but they are fine for use in gaming and relatively fast for typing. Generally, the Cynosa Lite is a solid budget keyboard.
Razer Deathadder essential
The Razer Deathadder essential mouse is the superior quality item in the bundle and comes with very low click latency, a great CPI, fits the hand well even though it is ambidextrous and is very light. The build quality of the mouse is very good.
Razer Blackshark X
Unique on the pick on this page is that the Power Up Bundle also comes bundled with a BLackshark X gaming headset. Whilst this headset is a relatively budget offering, it's still a quality piece of kit from Razer: it sits comfortably on the head and comes with 7.1 surround sound capability as well as a capable built-in microphone.
You'll struggle to find a better bundle than this in terms of price per performance as long as you don't mind using a wired keyboard and mouse.
---
Razer Turret Mechanical Keyboard And Mouse
Keyboard
Razer Turret keyboard
Switches
Mechanical – Razer Green (tactile and clicky)
well designed

durable metal base

retractable mouse mat

full RGB Chroma

built-in wrist rest
expensive

right-handed only
Features
The Razer Turret Keyboard and Razer Turret Mouse combo is a top-quality bundle for those who can afford it. The retractable mouse pad slides out the right side of the keyboard (limiting it to right-handed users only, unfortunately) and can be adjusted to different lengths. Cleverly, the pad has magnets in it which prevent the mouse from sliding off it as easily whilst gaming.
Build quality
The mechanical keyboard has a built-in wrist rest and is of solid and sturdy quality. It's generally a pleasure to type on and comes fitted with Razer Green switches, which offer a similar experience to Cherry MX Blue switches, albeit with a shorter reset.
Design
The Razer Turret mouse is similar in design to the Razer Mamba. It comes with the standard mouse button configuration as well as CPI adjustment controls and two additional programmable buttons on its side. The max sensitivity of the mouse is more than adequate.
The RGB Chroma on the mouse and the keyboard are top-notch, though if you're using it with the PS5 this functionality will be limited by the console. Nevertheless, this is a top-of-the-line keyboard and mouse combo that comes with a wireless connection for increased flexibility.
---
Logitech Lightspeed Keyboard And Mouse Combo
Keyboard
Logitech G613 Lightspeed
Switches
Mechanical – Romer-G
Mouse
Logitech G305 Lightspeed
quality mouse

quiet for a mechanical keyboard

reliable wireless connection

built-in wrist rest
keyboard has no backlighting or RGB functions

keyboard is somewhat bulky

mouse potentially too small for larger handed people
This Logitech Lightspeed bundle comes with the G613 wireless keyboard and the G305 mouse which are both solid offerings from a quality brand.
Performance
The mouse is the highlight of the bundle, having very low click latency and an all round great build quality and nice ergonomic design. That being said it is somewhat on the smaller side, so if you've larger hands and struggle with smaller size mice this probably won't be the choice for you.
Build quality
The G613 keyboard comes with mechanical keys with Romer-G switches, which are akin to Cherry MX Browns but not quite as comfortable to use. Still, the keys are fairly quiet for a mechanical keyboard, so those who still want to go mechanical but who don't want a loud typing experience should find them a solid choice. The keyboard comes with a built-in wrist rest and is arguably larger than is ideal, but this won't be a problem for some people. Similarly, the keyboard has no backlighting or RGB functionality, which people uninterested in RGB aesthetics won't be too bothered about, although it does make typing in the dark more difficult.
---
Reddragon K555-RGB-BA Mechanical Gaming Keyboard and M710-RGB Gaming Mouse
Keyboard
Redragon K555-RGB-BA
Switches
Mechanical – Outemo Blue
Extremely affordable

Very responsive clicky Blue switches

Comes with additional mousepad
Mouse is extremely basic

Very loud key clicks
This Reddragon mouse and keyboard combo offers great value for money – you will find cheaper out there but we think the sacrifice in quality just isn't worth it, whereas this pairing is a great entry-level compromise of value vs performance.
Features
The keyboard is the highlight of this particular bundle: the K555-RGB-BA comes with Cherry Blue equivalent switches (known as Outemo Blue), that provide very good actuation, excellent response, and a tactile feel. The K555 offers vibrant RGB, 12 multimedia keys, a water-resistant design, and molded keycaps for added comfort. The keyboard also comes with a very comfortable wrist-rest that helps take away some of the strain incurred over long gaming sessions.
Performance
The M710 RGB mouse is fairly basic: its ambidextrous design, whilst convenient if multiple people with different dominant hands will be using it, does mean it's somewhat lacking in ergonomic comfort compared to dominant-hand-specific models. The RGB functionality on the mouse however is actually better than on many more expensive models, the colors being very vibrant. The features of the mouse include 10,000 DPI, 20G acceleration, and interestingly you can alter the weight of the mouse with the changeable weights found in its base.
Basically, what we have here is an entry-level keyboard and mouse combo that would be perfect for first-time gamers wanting to give the PC style setup a go.
---
Final Word
The best overall combo we have selected for use with the PS5 is the Razer Power Up Bundle, however, if you are after a mechanical keyboard perhaps the Logitech Lightspeed Combo is more your thing. Those with more cash to splash my consider treating themselves to the Razer Turret Keyboard and Mouse bundle, which is the most premium build on offer here, but for those on the other end of the spectrum looking to save money this Reddragon Keyboard and Mouse is the most affordable option which still comes with an impressive keyboard.
If there are any other keyboard and mouse combinations you'd like us to look at in relation to the PlayStation 5, or just in general, then please drop us a comment below.
---