Full vs Semi vs Non Modular Power Supply: See the Differences
Updated: Nov 23, 2021 5:35 pm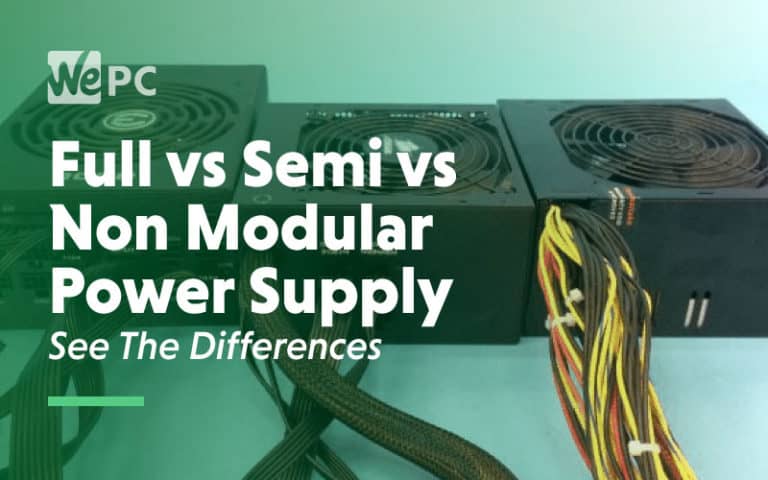 There are a wide variety of things to consider when purchasing a power supply, from wattage to efficiency but before that, we need to address the modularity of the component. For the new builder, the differences are obvious but knowing the benefits and downsides to the different types of PSUs can sometimes be unclear.
Here's a quick guide on fully, semi, and non-modular power supplies to give you a better indication of what is the best PSU for you.
VIDEO: Which Power Supply is Best For your Gaming PC?

What is Non Modular Power Supply?
Non-modular power supplies look and do the same as other power supplies except the cables are all soldered to one circuit board inside. This speeds up manufacturing making these ugly components cheaper. These types of power supplies will often feature in budget builds and even though they still do an effective job at powering your system, the nest of cables is an eyesore. If you are rocking the best PC case, the last thing you want is dust covered cables all over the place.
If you are on a budget or are building a system in a case with no windows then a non-modular PSU is acceptable, however, be aware that the cables will gather dust and airflow inside will be negatively affected which can increase the stress on your components.
There are a lot of non-modular power supplies out there but this one is our favorite:
Corsair CX Series 750 Watt 80 Bronze Certified
What is Semi-Modular Power Supply?
As you may have been able to tell from the name, the semi-modular PSU has some but not all cables hardwired. Semi-modular power supplies have your main cables, like the 24-pin, 8-pin CPU, and a PCIe cable all connected to one circuit board. Next to the dedicated cables, your SATA cables and sometimes an extra PCIe cable are your modular options.
Think of a semi-modular PSU as a hybrid power supply with a mixture of attributes from the non and fully modular PSUs.
There are various types of semi-modular power supplies available:
The 24pin comes pre-attached while the PCIe, 8pin CPU, and other cables come as modular.
The 24pin and the PCIe come pre-attached while all your others come as modular.
The 24pin and 8-pin CPU come pre-attached, while the PCIe and other cables come as modular.
Semi-modular power supplies are a great way to save money on your new build. With these semi-modular PSUs, You don't have to compromise too much on unused cables as you will be plugging in most of the important pre-attached cables. It is worth noting you cant use braided cables with a semi-modular PSU fully so bear this in mind if you are considering getting cable mods.
For the price, we are a big fan of this semi-modular PSU option:
Corsair CX750M -80 Bronze Certified
What is Fully Modular Power Supply?
Lastly, we have the fully modular power supply and as you expect all cables are individually seated.
If your budget allows for it there are no negatives to a fully modular PSU and you may be wondering why bother going fully modular if you are going to plug those important cables in regardless?
While this may be a good point, fully modular PSUs are still highly recommended and they are compatible with the different coloured power cables giving you a bit of extra design flair with your build.
The main benefits to a fully modular PSU are similar to the semi-modular PSUs:
Airflow is greatly increased thanks to better cable management flexibility and a few extra sockets to seat the cables into the PSU. You also won't have a 'nest' sat in the middle of your case as only the cables you require will be used.
Thanks to the reduced amount of cables sat inside the case there will be less dust building up. The lack of cables and the extra case space equate to lower temperatures and happier components.
EVGA SuperNOVA 750W G2, 80+ GOLD
Pros and Cons of Modular, Semi-Modular, and non Modular PSU
Price
Prices vary depending on the modularity of the power supply with non-modular PSUs often being the cheaper option. Below is a table of EVGA's 750W non-modular, semi-modular, and fully modular power supplies showing how the prices differ between types.
PSU types
| Mode Name | Wattage | PSU Type | Amazon Price |
| --- | --- | --- | --- |
| EVGA 750 N1, 750W | 750W | Non Modular | $62.99 |
| EVGA 750 GQ, 80+ GOLD 750W | 750W | Semi Modular | $105.37 |
| EVGA SuperNOVA 750 G2, 80+ GOLD 750W | 750W | Fully Modular | $119.99 |
We clearly see that a non-modular power supply is the cheapest option with it costing nearly half as much as a fully modular PSU.
The semi-modular PSUs offer a cheaper alternative to fully modular PSUs however the savings aren't all that much and this is where your choice depends on your individual building needs.
Lastly, The more expensive fully-modular PSUs aren't that much more expensive than the semi PSUs so if you can spare a bit more cash then always go for the modular option. Going for a modular option gives you a bit more flexibility with your current build or future upgrades.
Air Flow
Airflow is largely affected by non-modular power supplies due to the cables that stretch across your case from the power unit to the components. These cables interrupt the flow of air and also attract dust which can lead to components overheating/ breaking quicker. While you can cable manage non-modular PSUs to eliminate some of the effects from the 'nest' of cables there are almost always unused cables that need to be stuffed somewhere and it's generally a clumpy mess.
Both the semi-modular and the fully-modular power supplies allow the best airflow efficiency. Although these types are more expensive compared to the non-modular power supplies, the fact that they provide the best performance is what makes them a smart investment.
Remember good airflow and less dust will in most cases prolong the life of your computer's components.
Aesthetics
A huge downside to non-modular power supplies is the ugly mass of cables that end up in a big ball. They are an eyesore and should only be considered for the budget builder or PC cases with no windows.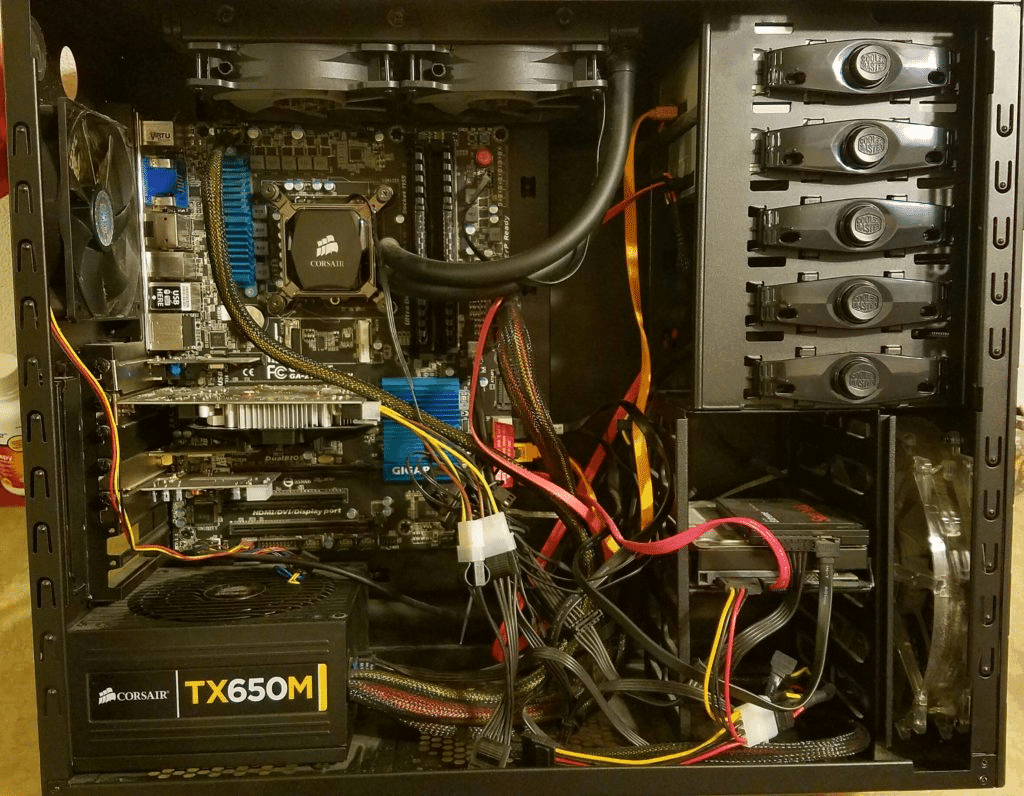 Image courtesy by Reddit user stuck_limo
With the ability to use only the cables you need with fully-modular and semi-modular power supplies, you can guarantee that you are able to achieve the best cable management. This ensures that air is able to flow efficiently in and out your case, but you also have an aesthetically pleasing system, especially when paired with a tempered glass PC case.
Image courtesy by Reddit user Klutz00
Temperature
When it comes to temperatures, it is linked closely with airflow. This is because the more cables sat in your system means the less air is going to be pumped through your hot components, which can lead to a rise in the temperature and ultimately shorten the life span of your components.
The differences between non-modular and fully modular are quite significant but a semi-modular does a good job in terms of temperature, as long as most/ all the cables are being utilised.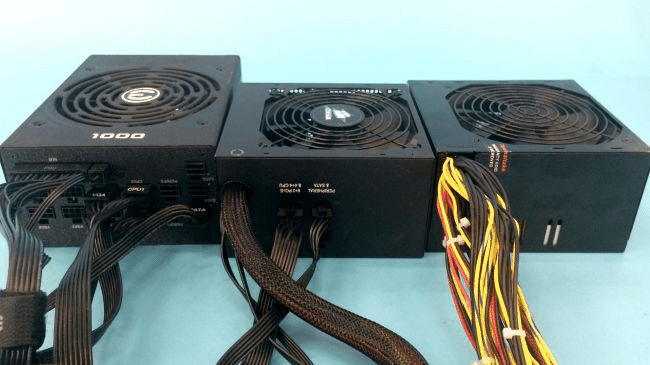 modular vs non modular vs semi modular psu power supply unit
Convenience
Some people have said they like the convenience of a non-modular power supply as it's all in one piece and ready to go however they aren't that convenient when you think about it. Most, if not all modular power supplies come labeled telling users where each cable is seated into the main PSU block allowing for a more user-friendly experience. When installing a modular PSU it is a lot easier to distribute your wires as you haven't got 3 or 4 extra unused cables that you need to untangle whilst building.
When it comes to replacing a component or removing one that requires power you can simply remove that cable if it is no longer needed or if you need to swap it out for one with more pins.
The bottom line is, the more modular a PSU is the more convenient it is.
Better Material Quality
Build quality is always down to the brand rather than the type of PSU. Reliable manufacturers produce high-quality power supplies but do bear in mind that non-modular PSUs are more basic overall often with design taking a back seat.
You get what you pay for with power supplies, which is usually convenience, design, and efficiency rather than build quality.
Efficiency
In the past, some manufacturers were misleading with there efficiency ratings which ended up in the appearance of '80 Plus'. 80 Plus is a voluntary program that promotes efficient energy use in PSUs. This program was launched back in 2004 and it certifies products that have more than 80% energy efficiency at 20%, 50%, and 100% of rated load.
Fully, semi and non-modular power supplies are all available in multiple different efficiency ratings so you can get a gold plus PSU without breaking the bank. That being said, non-modular PSUs that are frequently in stock normally have a maximum efficiency rating of bronze even though some feature with better ratings. Bronze is fine so don't let it put you off but if you want a more efficient PSU you are going to have to pay more.
Your semi and fully-modular power supplies are readily available with silver/gold+ ratings and go up as high as a rating called 'platinum'.
In the past, there were some concerns over modular power supplies efficiency but this was a long time ago and you won't be seeing any voltage drops with a modern-day modular power supply.
Be sure to use our PSU calculator to help recommend the best PSU based on the PC you are looking to build, we provide PSUs based on the wattage you will need as well as recommendations based on PSU ratings.
Conclusion
Ultimately if you can squeeze it out of your budget you should always get a fully-modular power supply.
In those scenarios where you are trying to shave off pennies to get the best CPU or GPU, then picking up a budget non-modular PSU makes sense. A semi-modular power supply isn't a bad choice but unless your build calls for a strict budget, get a fully modular one!
---