Samsung Odyssey Neo G9 Review (S49AG95NC)
Our indepth review of Samsung's latest G9 Neo - an improved version of the original with greater HDR and mini LED backlight technology
Updated: Sep 28, 2022 3:46 pm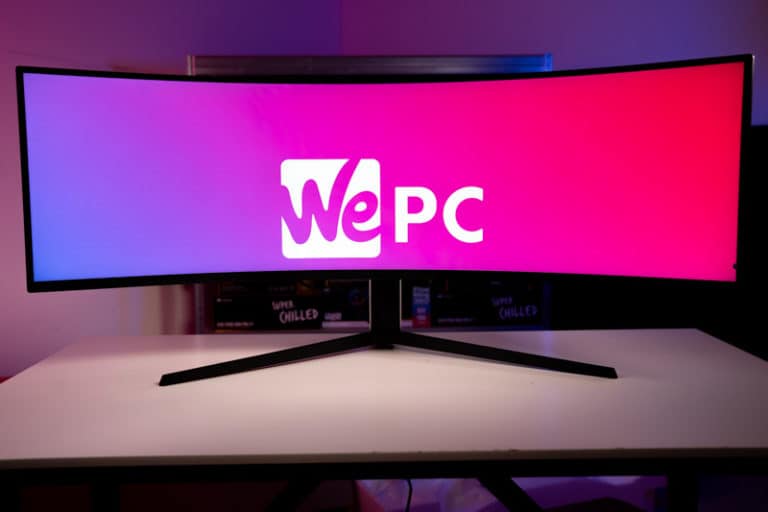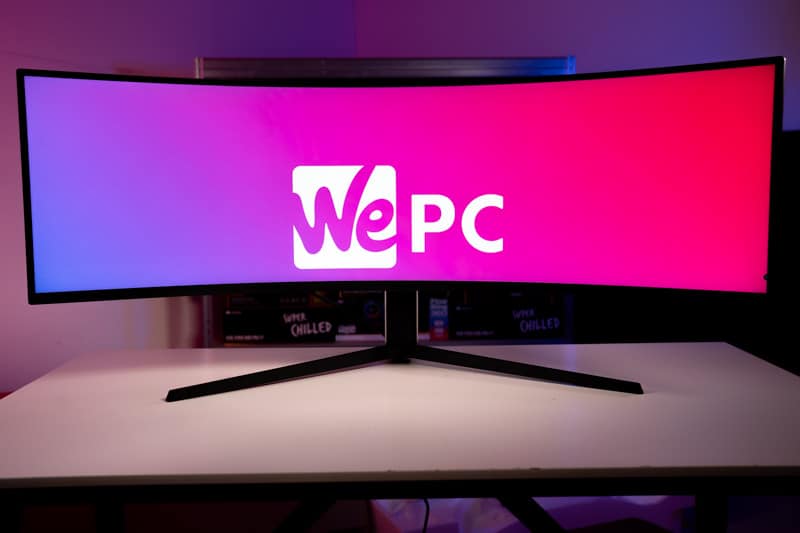 The original Samsung G9 was a huge hit with ultrawide monitor fans, classed by many as the king of 'super widescreen' monitors thanks to its stunning 49″ screen size and excellent VA panel.
However, since the G9's original release, Samsung has been working hard to not only improve on it but also fix some of the problems that occurred with the older panel. Enter the Samsung Odyssey Neo G9 (S49AG95NC).
The latest offering from Samsung addresses all the issues that the old panel fell victim to, whilst adding a tonne of additional features that once again make it one of the best gaming monitors your money can buy.
The new Samsung G9 Neo comes equipped with all the latest high-end features you could want, including a brand new CSOT VA panel and Mini-LED backlight technology. Like its predecessor, the G9 Neo offers up a wide 5120 x 1440 screen resolution, low 1ms response time, and 240Hz refresh rate – the perfect combination of specs for a truly immersive gaming experience.
Like the G9 (original), the Neo also offers a wide color gamut that covers 125% of the sRGB spectrum (95% DCI-P3), alongside 10 bits color depth and VESA DisplayHDR2000 certification.
In the following article, we'll be putting the Samsung G9 to the test in a number of different scenarios to see how it stacks up in build quality, color accuracy, picture quality, gaming, and general immersion – concluding with our thoughts on value and affordability.
So, with plenty to get through, let's waste no further time and dive straight into it!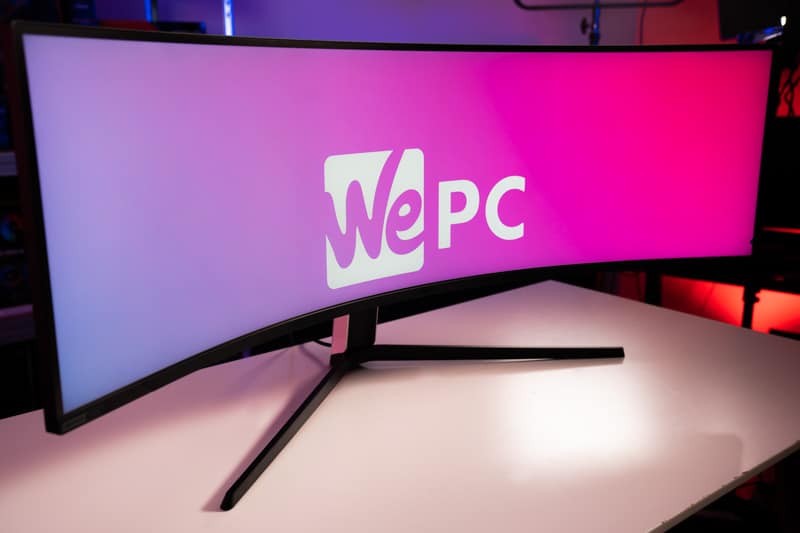 Samsung Odyssey Neo G9 (S49AG95NC)
Specifications
Tech Specs
Color Gamut
125% sRGB, 95% DCI-P3
Backlight technology
Mini LED (2048 dimming zones)
Panel Coating
Anti-Glare(Matte)
Dimensions (WxHxD)
1147.6 x 363.5 x 291mm (without stand) 1147.6 x 550 x 416mm (Stand at max height) 1147.6 x 423 x 416mm (Stand at lowest height)
Inputs
2 X USB 3.0, 1 x HMDI 2.1, 2 x DisplayPort 1.4, 1 x 3.5mm Audio Jack
PROS
High 240Hz refresh rate
Impressive VESA DisplayHDR200 certification
Immersive 1000R Curvature
Mini-LED Backlight Technology
Low 1ms Response Time
What's In The Box
The latest Samsung Neo G9 box loses all the marketing material on the exterior, replaced with a more eco-friendly look. It still houses the topline specs on the exterior and some energy details.
Inside, the monitor comes unassembled from the stand and inside two large pieces of protective styrofoam. All parts come in a thin layer of foam padding and sit nicely within the styrofoam housing.
Putting the monitor together is a simple process that doesn't require tools.
Below is the full list of accessories that come with the Samsung Odyssey Neo G9:
Samsung Odyssey Neo G9 Monitor
HDMI 2.1 Cable
Power Cable
USB 3.0 Cable
Quick Start Guide
Warranty
Samsung Odyssey Neo G9 (S49AG95NC)
Design And Features
With specifications out the way, let's take a closer look at the build quality, design, and mechanical features this monitor comes equipped with.
Design
The first thing you notice upon unboxing this monitor is just how similar to the original G9 it is – well, it's almost identical actually.
The new Odyssey Neo G9 offers the same 1000R curvature alongside a wide V-shape base that contrasts nicely with the subtle curve of the panel itself. Thin bezels complete the design of the panel, with a 'borderless' design offering up excellent levels of immersion during gameplay. The bottom bezel is the largest and showcases some of the only changes when comparing this to the original G9. The Samsung logo is finished in a subtle style in the center of the bottom bezel, with new button mapping and indicators alongside it.
The stand offers up a handy cable management system that can be seen (just) if you have the monitor in its highest viewing position. The rear of the stand releases and allows for cables to be routed within – again, like the original G9. Cable management aside, however, the rear of the monitor does look truly fantastic. I haven't used the G9 in some time and it's safe to say it's still one of my favorite-looking panels.
The rear of the monitor is finished in white with a dark vortex at the center that offers excellent RGB. Whilst you won't be able to fully reap the rewards of this feature, it certainly looks cool if used in a space where others can see the back of it.
Etchings and design lines have been added to the design of the rear of the monitor, giving it a futuristic look that wouldn't look out of place on the Starship Enterprise.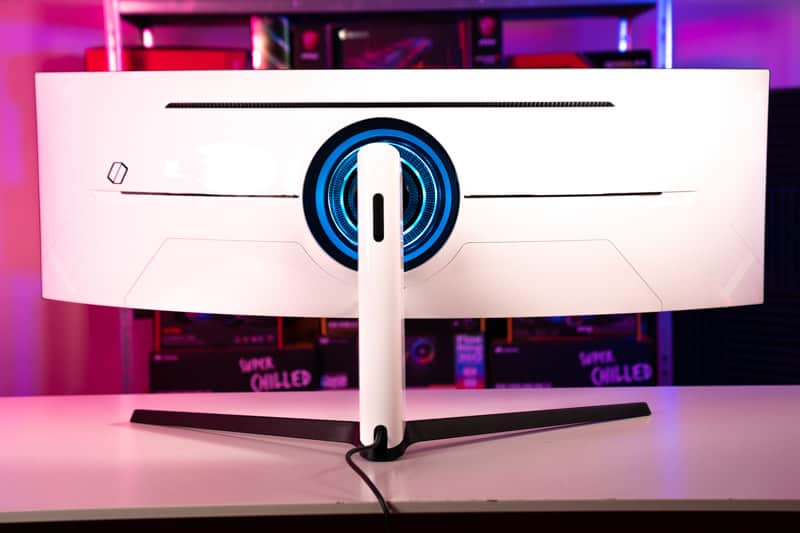 Finally, a backplate can be utilized to tidy up any cable issues at the rear.
Build Quality
The build quality of the Samsung Odyssey Neo G9 definitely feels like an improvement when compared to the original.
The most noticeable changes can be found when looking at the quality and support the stand offers. In terms of wobble, the Neo didn't really move too much during usage. Granted, if you tap the monitor with your finger, it will move – but again, nothing overly concerning.
The front of the panel feels absolutely rock-solid, with all fittings feeling incredibly well-made. The bottom bezel, for example, which can often be left gaping from the panel itself, feels very premium on this panel. The Neo G9 scored very highly in our robustness tests, with very little bending or creaking found.
The stand now requires a decent amount of force to reposition the monitor, a definite upgrade from the aging original. Again, whilst not much metal has been used throughout the design of this monitor, it still feels very premium indeed.
Panel Coating
Like most modern panels, the Samsung Odyssey Neo G9 comes with an anti-glare panel coating with a matte (3H) finish. This particular coating does a superb job of mitigating most natural and man-made light sources – unless under direct attack from a particular light source.
Somewhat annoying, however, is how the curvature of the panel seems to bounce strong light sources back into your field of view. This can be quite off-putting – so choose your positioning wisely.
Bezels
The Samsung Odyssey Neo G9 comes with dual-stage bezels that, as we mentioned earlier, have been coined (borderless) by Samsung. Obviously, this is just marketing mumbo-jumbo – with the top and side bezels measuring in at 11mm. The bottom bezel is the largest of the four, measuring in at 16mm – not all that bad when considering the competition.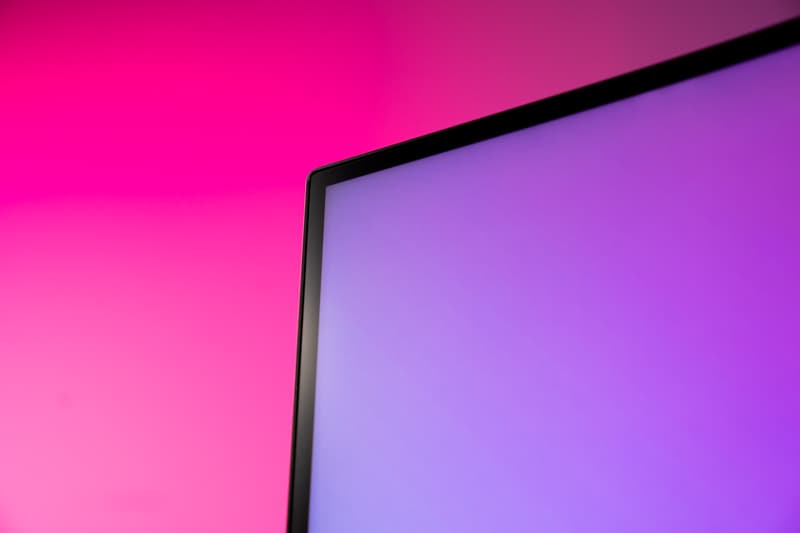 Stand
Taking a closer look at the functionality of the stand itself, users can expect decent adjustments and features. As we said earlier, the rear of the stand releases to expose a cable management system that works incredibly well.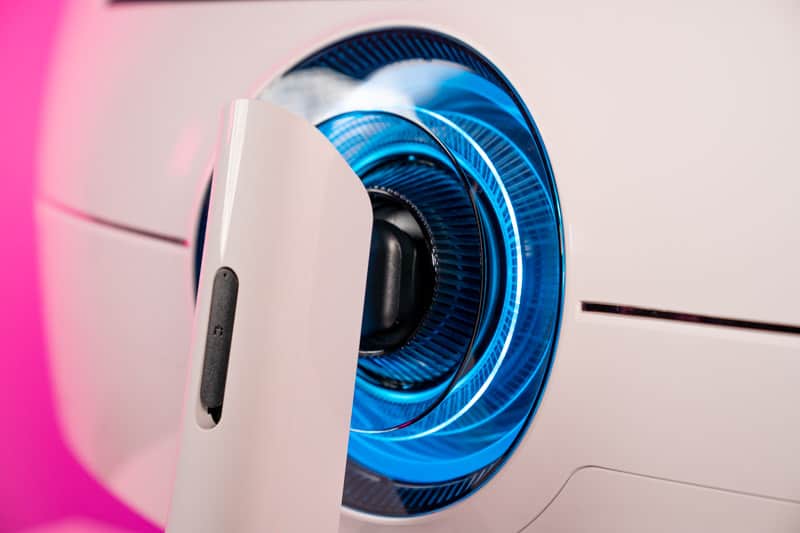 Stand adjustments are very extensive for a monitor of this size, offering up height, tilt, and swivel functionality.
Below are the complete specs for the stand adjustments:
Height: 120mm
Right Swivel: 15 degrees
Left Swivel: 15 degrees
Forward Tilt: 3 degrees
Backward Tilt: 13 degrees
Samsung Odyssey Neo G9 (S49AG95NC)
Inputs
The Samsung Odyssey Neo G9 offers up good versatility when it comes to inputs, offering up an upgrade to the next-gen-friendly HDMI 2.1 interface.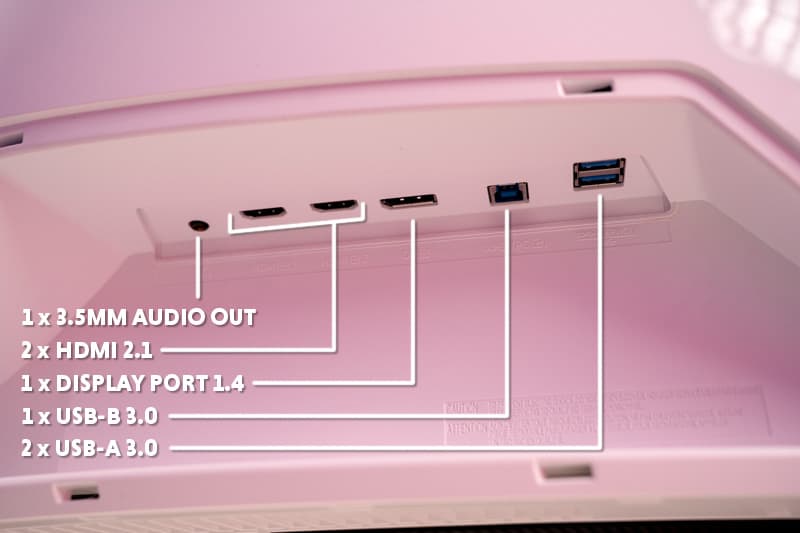 All inputs can be found at the rear of the monitor and require insertion via vertical fashion.
The full list of inputs includes:
2 x HDMI 2.1
1 x DisplayPort 1.4
1 x 3.5mm Audio Out
2 x USB 3.0 (Type-A; downstream)
OSD
Lastly, we have the OSD (on-screen display). With so many features, the OSD is a fairly important part of the monitor's performance – if you ask me.
The Samsung Odyssey Neo G9 offers up a comprehensive OSD that really does allow changes for most features on this monitor. With dedicated menus for gaming, picture, PIP/PBP (and more), you have complete access to alter this monitor's performance to your exact requirements.
In terms of color adjustments, users can change all the usual suspects, including luminance, contrast, colors (RGB values), sharpness, and picture modes.
The gaming section offers up similar levels of versatility, with options for altering the following areas:
Refresh rate
Response time
Adaptive-sync
Low input lag
Black equalizer
Virtual aim point
Infinity core lighting
The OSD is almost identical to previous versions of the monitor – and other monitors within the 'G' series.
Color Accuracy & Picture Quality
Great colors and excellent picture quality are two of the main factors that help create immersion when gaming. Whilst this is the case, gaming monitors don't always calibrate the color to what is deemed accurate within certain color spectrums – sRGB/Rec.709 for example.
We like to test each monitor for color reproduction to see how they would perform in color-accurate scenarios.
Here are the results for the new Samsung Odyssey Neo G9.
| Preset | White Point | Black Depth | Contrast Ratio | Average ΔE*00 | Gamma |
| --- | --- | --- | --- | --- | --- |
| IDEAL | 6500K | 0.00cd/m² | Infinite | 0.00 | 2.2 |
| Out The Box (Standard Mode) | 6651K | 0.016 cd/m² | 7595.8:1 | 2.7 | 2.29 |
| sRGB | 6522K | 0.0151 cd/m² | 7981.1:1 | 1.73 | |
| RTS Mode | 6896K | 0.0138 cd/m² | 7132.6:1 | 4 | 2.34 |
| Cinema Mode | 6581K | 0.0141 cd/m² | 7607.8:1 | 6.11 | 2.47 |
We started off with a quick 'out of the box' test to see whether Samsung had put any form of pre-calibration on the monitor's default settings. The monitor came in 'Custom' mode with brightness set to around 150 nits – more than the recommended for daily usage.
The G9 offered up relatively OK out the box colors, but nothing spectacular. As you can see from the chart above, the monitor offers up a near-perfect 6651K white point, low black point, and an extremely wide contrast ratio (7595:1). Colors weren't the most accurate we've ever seen, measuring it with an average of 2.7 deltaE.
We wasted no time and tested the sRGB preset, expecting the highest levels of color accuracy. Again, white point was near-perfect and black depth was equally as low (0.0151). Contrast ratio continued to impress at 7981:1 and average deltaE did take a slight dip to 1.73. Whilst this is a decent improvement, it'd still be extremely hard to recommend this monitor for color-accurate work.
We tested the RTS profile next as it offered up a contrasting profile when compared to both sRGB and 'out of the box' settings. It measured a 6896K white point and low 0.013 black depth. Contrast ratio in this preset was the worst recorded, with average deltaE offering a poor score of 4. Gamma was 2.34.
Cinema mode was last and, as expected, it didn't offer decent levels of color accuracy. Granted, the cinema mode is meant to enhance the image, not provide a color-accurate experience. However, white point was very good as was black depth. Contrast ratio sat at 7600:1 and average DelatE was the worst we recorded – 6.11 across the board.
The monitor had a number of other preset but none offered any real level of color accuracy. That being said, they did provide a nice visual experience that is certainly useful in some scenarios.
Samsung Odyssey Neo G9 Calibration
Before doing a full calibration, we ran the most accurate profile through a more comprehensive color test. The results offered a similar average but a fairly poor maximum DeltaE of 7.13.
After testing the Neo G9 for color accuracy, we ran the monitor through our calibration process to see how accurate it could become – testing color gamut and panel uniformity as we went.
We used the 'custom' picture mode, alongside 'custom' color tone – adjusting the RGB to 53/48/49 
Below are the results after the calibration process was complete:
| Preset | White Point | Black Depth | Contrast Ratio | Average ΔE*00 | Maximum ΔE*00 | Gamma |
| --- | --- | --- | --- | --- | --- | --- |
| IDEAL | 6500K | 0.00cd/m² | Infinite | 0.00 | 0.00 | 2.2 |
| sRGB Indepth | 6586K | 0.016 cd/m² | 7402:1 | 1.96 | 7.13 | 2.322 |
| Calibrated Profile | 6488K | 0.0166 cd/m² | 6905.8:1 | 0.24 | 1.22 | 2.29 |
After calibration, the Neo G9 offered up a much more accurate color profile – as expected. White point was excellent as was black depth (0.016). Contrast ratio did take a dip to 6905:1 but average deltaE increased exponentially. Over a more comprehensive test, the G9 offered an average deltaE of 0.24 (with a max of 1.22).
Whilst the monitor wasn't the most accurate we've ever tested, it was far from the worst either. With a few small tweaks, you can easily make this monitor a great tool for video and photo editing within the sRGB spectrum.
Panel Uniformity
Panel Uniformity Traffic Light System
Panel uniformity is a test we run to check how uniform the luminance and color is across the entirety of the screen. During this test, the center square is used as the reference space. Every other square is then tested to see how far it differentiates from the reference.
In an ideal world, we want every square to be green, meaning it hasn't broken the differential threshold – something we can set at the start of the test.
Note: results will differ from panel to panel.

As far as panel uniformity goes, the Neo G9 was a little hit and miss. As you can see from the table above, large portions of the screen offered an amber score – only just passing the nominal tolerance. The worst segment was found at the bottom left corner, not passing the nominal tolerance limits – albeit not visible by the naked eye.
Viewing Angles
The Odyssey Neo G9 scored fairly poorly when it came to viewing angles – mainly thanks to the VA panel that sits at the heart of this 49″ monitor. Colors and luminance start to shift fairly aggressively from horizontal angles wider than 40%. Vertical viewing angles are even worse, with extreme color shifts being experienced by just standing up.
Samsung Odyssey Neo G9 (S49AG95NC)
Color Gamut
As part of the calibration process, the DisplayCal will give an accurate measurement of the color gamut the monitor can provide. Below are the results of the color gamut test:
The Samsung G9 didn't exactly blow us away in this department, but it did live up to the specifications provided by Samsung. We measured a 137.6% sRGB volume, which equatest to 94.8% Adobe RGB or 97.5% DCI-P3. As far as actual coverage goes, users can expect 99.8% sRGB, 86.3% Adobe RGB, and 91% DCI-P3.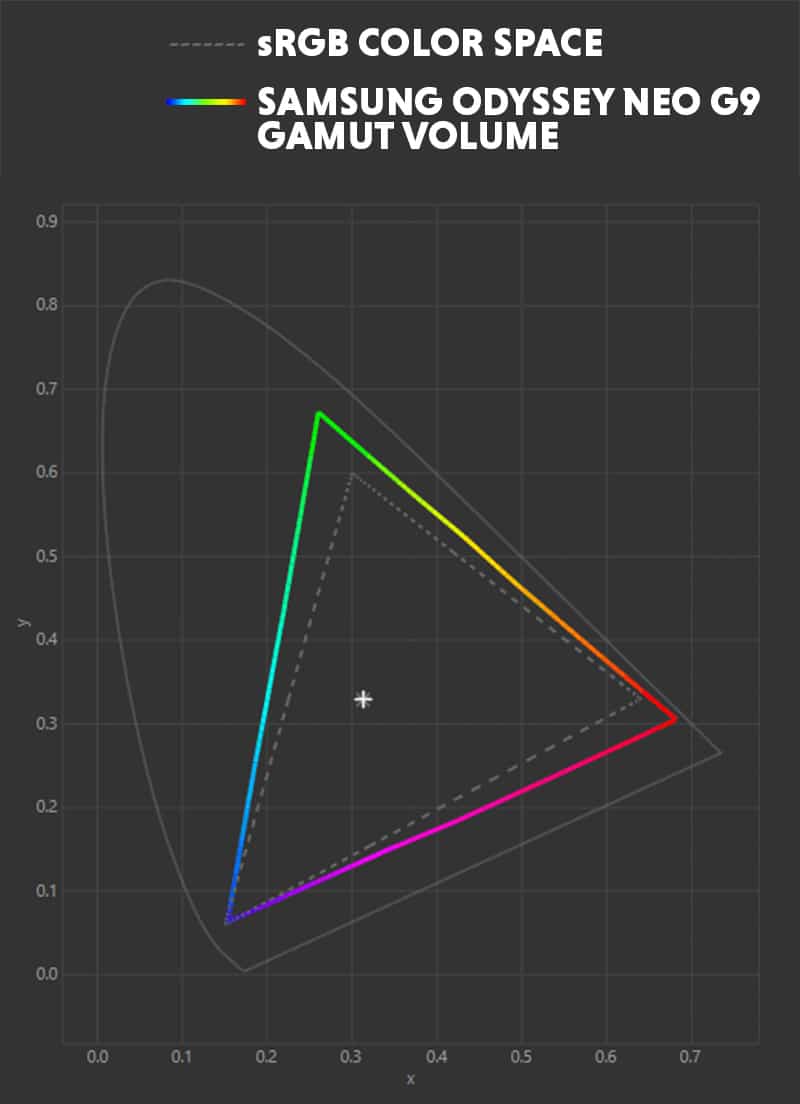 Looking at the physical color gamut graph you can clearly see where the Samsung Odyssey Neo G9 extends past the sRGB color space – displayed by the dotted line. For sRGB users, this moniotor far exceeds that particular space, offering up good accuracy once calibrated.
Maximum And Minimum Brightness
We ended the color accuracy and picture quality testing by checking the maximum brightness, minimum brightness, and 120 candelas points on this panel. The results are below:
| Brightness | Candelas |
| --- | --- |
| 100% Brightness (HDR enabled) | 1956 cd/m² |
| 100% Brightness | 456.65cd/m² |
| 0% Brightness | 56.71cd/m² |
| 16 Brightness | 120 cd/m² |
Calibrated Profile
For those who want to use our calibrated color profile, you will find a link below where you can download the zip file.
Samsung Odyssey Neo G9: Gaming Performance
With color accuracy out of the way, it's time to put the Samsung Odyssey Neo G9 through a number of different gaming scenarios to see how it stacks up in pixel response, input lag, and HDR content. Thanks to the fast response time,  high refresh rate, and immersive screen size, I expect an excellent gaming experience from this panel – let's take a look.
I started off by loading CS:GO, mainly to see how the monitor handled fast-paced shooters. This kind of game helps us get a better understanding of how the monitor's response time is affected by fast-moving images and perception blur. My first impressions were average.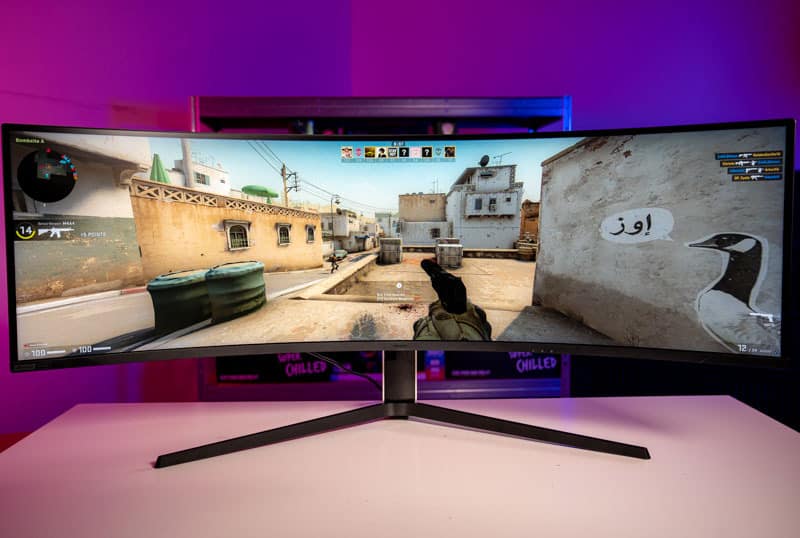 Before we start, I understand this game isn't optimized for this screen resolution (played in 5120 x 1440), however, that doesn't change how the monitor's response time is affected by fast-moving images. During tests, there were light amounts of blurring when moving around the map, with telephone wires and edges of corners being affected by small amounts of ghosting. Dark colors seemed to be affected more by this screen artifact than the light colors, especially when enemies would move quickly against a lighter background – De_dust 2 for example. 
Response time aside, you can easily play CS:GO on this monitor (without black bars) and it looked pretty decent. Granted, there were some visual artifacts when playing the game, but nothing overly offputting. The refresh rate felt crispy and the superwide aspect ratio did give you some crazy field of view – albeit a little silly.
We moved onto more immersive, graphically demanding titles next (Shadow Of The Tomb/ Battlefield V) to get a better idea of how this monitor performs on a more casual basis. Visually, the games looked absolutely superb on this monitor, with colors offering a realistic experience thanks to the wide color gamuts the Neo G9 offers. Both games were much more tailored to the superwide screen resolution, providing a truly immersive experience that is hard to replicate on smaller alternatives. The best thing (for me) about this monitor is how the width of it captures your full field of view. The curvature also offers its own immersive qualities, creating a more futuristic viewing experience. Furthermore, the 1000R curvature is said to match the curvature of your eye, lessening the strain that is often experienced over long gaming sessions.
The response time seemed to handle the slower-moving games much better – and thanks to a newly implemented VA panel (with mini-LED backlight technology) haloing, smearing, and general light pollution on dark areas was reduced exponentially. The mini-LED technology provides the Neo G9 with 2048 local dimming zones, helping to create a much greater high dynamic range – clearly seen in the calibration tests above.
HDR Performance
One of the big changes that Samsung has looked to implement in this new variation of the G9 is an increased HDR experience. The new Odyssey Neo G9 now comes equipped with DisplayHDR 2000 plus mini-LED backlight technology that provides 2048 local dimming zones – over 10 times that of the original G9. So, how does that convert to performance on screen? Well, the Odyssey Neo G9 offers a much more realistic HDR experience, with huge amounts of additional detail in both extremely dark and bright areas.
I compared the Samsung G9 against the Gigabyte AORUS FV43U (HDR 1000) to see how the HDR performance compared. It was an interesting test, mainly because they both offered their own unique pros and cons. Firstly, it was clear that more detail could be seen on the Samsung in extremely bright areas – both in-game and in HDR video. The side-by-side comparison, however, did make the Samsung seem a little on the dim side – with the AORUS offering much more vibrance in HDR. Whilst this was detrimental to realism, it certainly offered a unique viewing experience that I know many gamers would crave.
That being said, you can't really argue with the HDR performance the Samsung offered. In terms of contrast ratio, it provided some of the highest contrast I've tested – in both HDR and standard settings. Upgrading to 2048 local dimming zones is like night and day when comparing the G9 to the Neo G9, with huge amounts of additional detail seen in both light and dark areas. That being said, some reviewers have noticed some inconsistencies in HDR when viewing luminance levels at different window sizes. However, the conclusion suggests that a firmware update should fix the issues – it's clearly capable of a superb HDR experience.
Response Performance
For our response time tests, we ran the Blur Busters ghosting test using a pursuit camera. As you can see from the pictures underneath, we made use of each of the monitor's response time settings – Standard, Faster, Extreme – in order to get a better idea of how the panel performed under different overdrive settings.
Here are the results:
The Samsung Odyssey Neo G9 performed to an incredibly high standard when it came to general response time, offering up very little ghosting or overshoot during the pursuit camera test. As you can see from the images above, there wasn't a huge amount of difference when comparing the 'Standard', 'Faster', and 'Extreme' overdrive settings.
Using standard did lead to some ghosting problems, more noticeable in the darker background images. You can see some obvious trailing in the UFO and the yellow around the alien. The 'Faster' setting did reduce this slightly – and without introducing any overshoot issues.
We tested the 'Extreme' setting to conclude the response tests. Looking at the UFO, it was clear to see that ghosting had been replaced with light levels of overshoot/inverse ghosting. This is where the pixel response time is accelerated by technologies built into each monitor. Whilst this is good for decreasing motion blur, it often introduces overshoot – as seen above.
Final Thoughts
So, there you have it, our comprehensive review of the Samsung Odyssey Neo G9 – the latest upgrade to Samsung's hugely popular Odyssey G9. The only question left to answer is, does it showcase good value for money – and that's a tricky one.
Firstly, let's look at the positives. This monitor is absolutely fantastic from almost any standpoint. In games, it offers a fast response time that produces very little smearing or perceived blur. Alongside this, users can find a speedy 240Hz refresh rate, excellent color accuracy, and an immersive screen size that is like nothing else in today's market (apart from the original). With a wide color gamut that covers 97.5% of the DCI-P3 spectrum, excellent peak brightness, and a 1000R curved 1440p screen, the G9 really does seem to tick all the right boxes.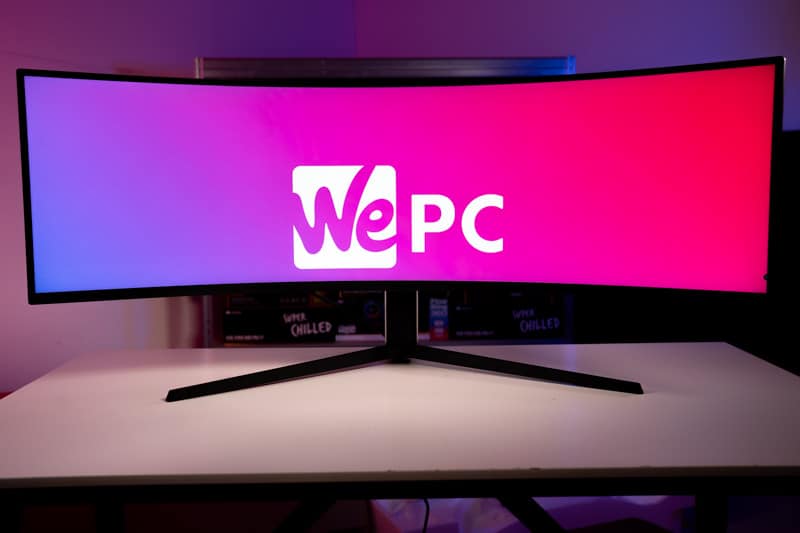 That being said, there are some inconsistencies as far as HDR is concerned. Whilst it does provide an excellent experience, some usage scenarios do leave the Neo G9 struggling to reach the advertised 2000nits of brightness. Furthermore, the G9 doesn't always provide the correct amount of luminance that is requested by the content. That's not to say it isn't a good HDR experience – it absolutely destroyed the predecessor thanks to its FALD that offers 2048 zones. It just needs a little fine-tuning.
All being said, the Samsung Odyssey Neo G9 is an expensive panel, living in the higher echelons as far as pricing is concerned. It has increased by around $700 from the previous version, making it one of the market's most expensive monitors. However, if you have the cash to spend, you really are purchasing a superb gaming monitor. It ticks all the right boxes as far as content consumption and multi-tasking are concerned.
Samsung Odyssey Neo G9 (S49AG95NC)
---