Alienware AW3420DW 34Inch Ultawide Gaming Monitor Review
The Alienware AW3420DW ticks all the right boxes. Aesthetically stunning, rapid response, excellent picture and color accuracy - the complete gaming monitor!
Updated: Mar 10, 2022 10:18 am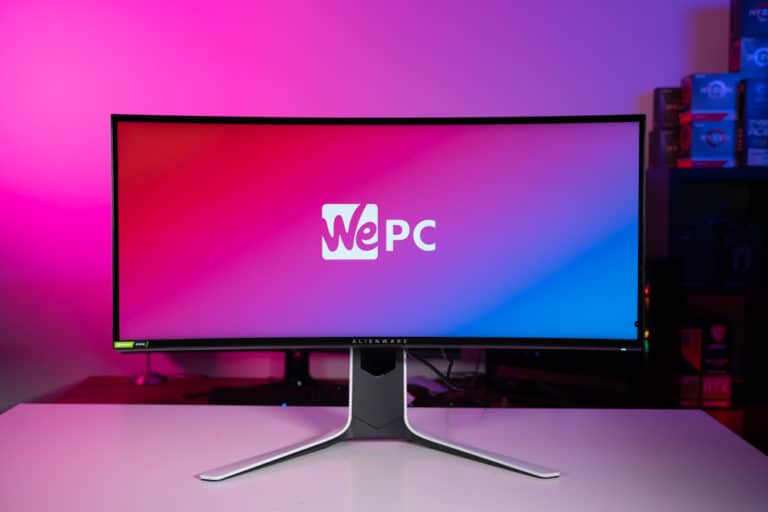 I've had the pleasure of testing a ton of monitors over the last 12 months, comparing displays that span the entire length of the price, performance, and size spectrum. And despite having tested some of the best monitors the market has to offer, one high-end gaming panel has still managed to elude me since its release over a year ago – the Alienware AW3420DW.
Fortunately for me, that wait is finally over. Today I'll be sitting down with this stunning 34-inch ultrawide gaming monitor to see how it stacks up against some of the market's leading contenders. We'll be putting the Alienware AW3420DW through its paces to see how it stacks up in gaming, general use, and productivity type scenarios – concluding with a comprehensive look at the value (or lack of) that it brings to the table.
Besides raw gaming performance, Dell has promised the highest level of color recreation with this panel, equipping it with Nano IPS color which offers a huge 98% DCI-P3 and 135% (as marketed) sRGB gamut coverage.  That makes this an extremely accurate monitor when it comes to photo/video editing in the DCI-P3 color gamut – not to mention sRGB and Adobe RGB as well.
So, with plenty to get through, let's waste no further time and dive straight into it!
Alienware AW3420DW 34″ Ultrawide Gaming Monitor
Specifications
Tech Specs
Color Gamut
135% sRGB, 98% DCI-P3, 100% Adobe RGB
Backlight technology
W-LED
Panel Coating
Anti-Glare/Matte (3H)
Dimensions (WxHxD)
813 x 364 x 117.9mm (without stand) 813 x 560 x 273mm (Stand at max height) 813 x 429 x 273mm (Stand at lowest height)
Inputs
3 x USB 3.0, 1 x USB 3.0 (downstream; BC 1.2), 1 x USB 3.0 (Type-B), 1 x HDMI 1.4, 1 x DisplayPort 1.2, 1 x 3.5 mm audio jack (line out), 1 x 3.5mm audio jack (headphone)
PROS
Immersion viewing experience
Stunning aesthetics
Extremely large color gamut - great for photo/video editing
What's In The Box
The Alienware AW3420DW comes in a fairly unique box, offering excellent protection for the panel inside. The screen sits inside a thin layer of foam on top of a more robust styrofoam-type material. The stand is separately packaged and must be assembled on its own before connecting it to the display. That said, the construction of the monitor is extremely straight forward but might require a second pair of hands as it weighs quite a lot.
Alienware AW3420DW
Kettle Plug 
DisplayPort 1.4
MiniDP-DP Cable
USB 3.0 Upstream Cable
Warranty
Alienware AW3420DW 34″ Ultrawide Gaming Monitor
Design And Features
With specifications out the way, let's take a closer look at the build quality, design, and some of the mechanical features this monitor comes equipped with.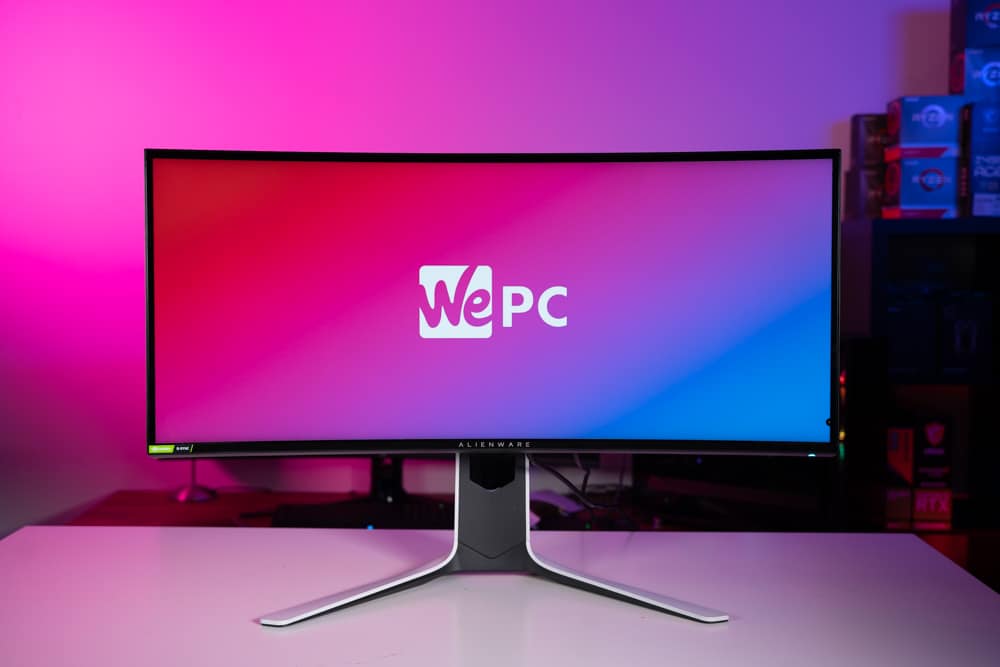 Design
As far as aesthetics go, this panel is absolutely superb. It offers a premium design that is characterized by Alienware's new Legend design language – carried across from the recent 15m laptops and Aurora R9 desktop. Comparing this to other monitors in the 34-inch size spectrum, the AW3420DW is head and shoulders above the rest when it comes to straight looks.
At the rear of the monitor lies most of the monitor's aesthetic features, including several lighting zones that can be fully customizable within the monitor itself. A small Alienware logo in the top corner of the panel is fully RGB and can be customized via the monitor's OSD. The back of the stand offers the largest RGB zone on the monitor. A band of RGB can be found which covers the majority of the stand in a very tasteful fashion. A third RGB zone can also be found underneath the front of the monitor (where the logo lies), adding a final touch of gaming flair to this already stunning display.
The curve of the monitor is subtle but definitely noticeable, playing a major role in the immersive nature it provides during both gameplay and entertainment viewing. The base of the stand is not only well made but also looks the part too, offering subtle curves that contrast nicely with the sharp angles found throughout. The Alienware logo can be found at the base of the panel itself, finishing the look of this monitor off in fantastic style.
Build Quality
Build quality is an area I'm wary of when it comes to large (and expensive) monitors such as this. Luckily, Alienware seems to prioritize this area too, bringing some of the highest quality monitors to fruition.
The AW3420DW is one of Alienware's most expensive panels, meaning you'd expect excellent build quality throughout its design. Well, that's exactly what you get. Everything on this monitor feels well constructed and functional. The stand is extremely robust and the tilt mechanism provides excellent stability at all times – even when tilted in an obscure manner.
The stand constructs easily and firmly, securing itself to the monitor with a clip system that – as we mentioned earlier – provides next to no wobble when in use. Despite plastic being used throughout this monitor's design, it still feels extremely well built – offering almost no flex when pressure is applied.
I have to say, overall, from a build quality standpoint – I'm extremely impressed with the AW3420DW.
Panel Coating
Like almost every modern monitor, the Alienware AW3420DW utilizes a large anti-glare panel coating which is fantastic at mitigating both natural and manmade light sources. That said, because of the curve this monitor comes equipped with, if you do have a particularly powerful light source that is reflected by the coating, you're probably going to struggle to get rid of it. The curve is notorious for bouncing light back into your line of sight.
It has a matte finish to further decrease reflective annoyances – also making it easier to clean and revealing fewer fingerprints overall.
Bezels
This monitor also boasts an almost frameless design, with both sides and the top offering an extremely slender frame, to say the least. The bezels on the top and sides both measure in at 11mm, whilst the bottom bezel is slightly larger at 18mm. This is fairly standard in most monitors – especially ones of this size – and doesn't take anything away from the overall viewing experience.
Stand
We've already touched upon the stand briefly, but to reiterate, for a monitor of this size, the stand here is excellent. It is very easy to assemble and provides excellent stability – no matter what position you have the monitor sitting in.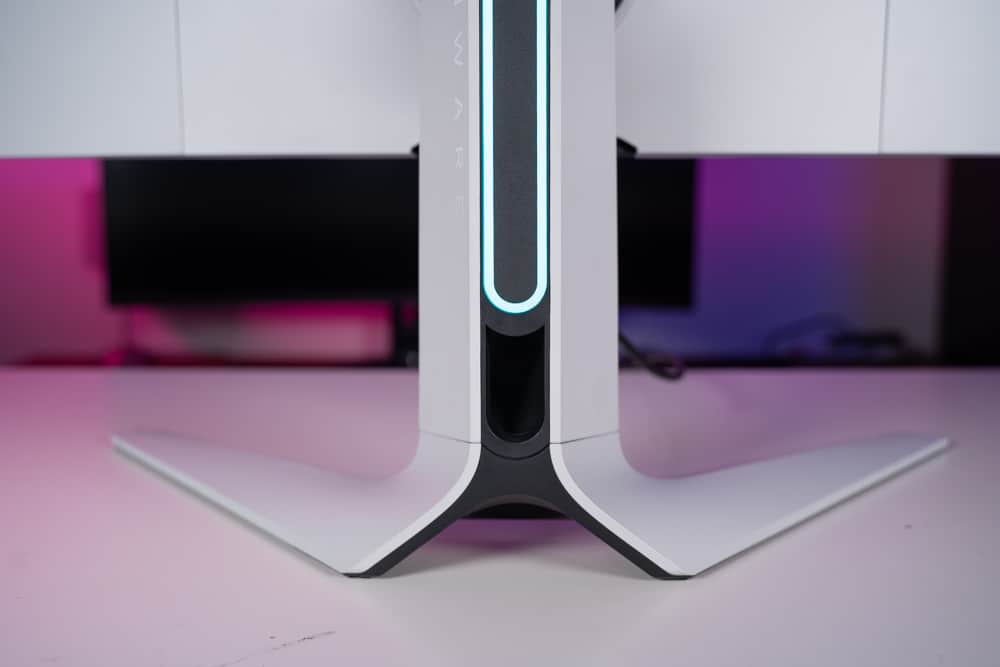 As far as functionality goes, you have plenty of adjustability to play with. Below are the exact specifications as far as adjustments go:
Forward Tilt – 5 degrees
Backward Tilt – 21 degrees
Left Swivel – 20 degrees
Right Swivel – 20 degrees
Pivot – 5 degrees
Height – 130mm
For a monitor of this size, that's more than enough "wiggle room" when it comes to finding the perfect viewing position.
Alienware AW3420DW 34″ Ultrawide Gaming Monitor
Inputs
Looking at inputs briefly, all are situated at the rear of the monitor and cables need to be installed in a vertical fashion. Annoyingly, plugging some of the cables into the inputs can be a little tricky – especially if you aren't blessed with slender fingers.
Most of the inputs are found at the rear in the normal orientation, however, two additional USB 3.0 ports and a 3.5mm audio jack can be found underneath the Alienware logo at the front.
OSD
Lastly, we have the on-screen display.
The AW3420DW offers a fairly in-depth on-screen display that covers all the usual bases. At the rear, you have your main joystick control. Clicking in any direction will open up the menu and navigation is extremely easy. Alongside this, you also have four additional buttons – one of which is used for exiting the menu and the others can be saved customizable presets.
Once inside the OSD, you have versatility over all the usual suspects, including color presets, brightness and contrast, game features, inputs, AlienFX lighting, and further personalization.
Unfortunately, the Alienware AW3420DW doesn't offer up an sRGB color preset. However, as we'll soon learn, color isn't too bad right out the box – mainly thanks to the NANO IPS technology used within the panel itself.
Color Accuracy & Picture Quality
There are many things I was excited to experience with this monitor, however, the biggest had to be the color accuracy. As mentioned before, Alienware has equipped this monitor with Nano IPS technology – an improved version of the IPS technology with much more accurate colors.
This monitor is marketed to cover 135% of the sRGB color spectrum, making it extremely good for photo/video editing. That said, below are our in-depth results that came from the deep color tests we ran. We did a number of different tests on the AW3420DW, covering several color presets and a final calibrated mode. We also standardized the tests to 120 candelas to establish a more level playing field.
| Preset | White Point | Black Depth | Contrast Ratio | Average ΔE*00 | Gamma |
| --- | --- | --- | --- | --- | --- |
| IDEAL | 6500K | 0.00cd/m² | Infinite | 0.00 | 2.2 |
| Standard (Out The Box) | 6673K | 0.1246 cd/m² | 935.4:1 | 2.74 | 2.27 |
| Warm Preset | 5898K | 0.128 cd/m² | 931:1 | 2.63 | 2.25 |
| Game 1 Preset | 6712K | 0.127 cd/m² | 935.9:1 | 2.67 | 2.25 |
| Custom Preset | 6187K | 0.1268 cd/m² | 949.8:1 | 3.07 | 2.25 |
Starting with the out the box settings, we saw fairly decent readings across the board. White point was good at 6673K and black levels were also low. Contrast was around the rated 1000:1 and gamma seemed to be targetting 2.3 instead of 2.2. Average color delta wasn't the best in the world (2.74), but it was out the box – so not the worst we've seen.
We moved onto the "warm" preset next, which offered very similar figures to that of Standard. White point was the weakest of the specs measured, bringing only 5898K to the table. Black level was again low and contrast ratio was almost the same as the previous preset. Average delta did see a small drop to 2.63, with gamma falling in at 2.25. After Warm we tested the "Game 1" preset which, again, posted almost identical specs to that of both Warm and Standard. The only difference, in this case, was the white point grew to 6712K.
We ended by trying the custom setting on 100/100/100 (RGB) and actually saw a dip in most cases. The white point was average at 6187K, as was the average delta of 3.07. Contrast ratio was the best in this preset and the gamma was recorded at 2.25.
| Preset | White Point | Black Depth | Contrast Ratio | Average ΔE*00 | Maximum ΔE*00 | Gamma |
| --- | --- | --- | --- | --- | --- | --- |
| IDEAL | 6500K | 0.00cd/m² | Infinite | 0.00 | 0.00 | 2.2 |
| Warm Preset (In-depth) | 5948K | 0.1291 cd/m² | 924.3:1 | 3.02 | 5.95 | 2.24 |
| Custom Calibrated (In-depth) | 6539K | 0.1316 cd/m² | 913.2:1 | 0.2 | 1.02 | 2.23 |
At this stage, we ran a more in-depth color test on the most accurate uncalibrated preset – in this case it was the Warm preset. As expected, the figures took a slight dip over the extended test – but for the most part, stayed the same. The maximum delta ended up being 5.95 – not too bad at all.
We decided to run a calibrated test after this, seeing how accurate we could get the colors of this panel. We set the profile to "Custom" and altered the RGB to 98%/99%/98% and ran an initial test. The color accuracy after calibrating the panel was a huge improvement. We saw an almost perfect 6530K white point, low 0.13 black level, and 912:1 contrast ratio. More impressively was the average and maximum delta's, dropping to near-perfect 0.2 and 1.02 levels. Overall gamma was still a little high, but nothing too crazy at 2.23.
Panel Uniformity
Panel uniformity is a test we run to check how uniform the luminance and color is across the entirety of the screen. During this test, the center square is used as the reference space. Every other square is then tested to see how far it differentiates from the reference.
In an ideal world, we want every square to be green, meaning it hasn't broken the differential threshold – something we can set at the start of the test.
Note: results will differ from panel to panel.

The AW3420DW offered pretty good panel uniformity, with the entire left-hand side of the screen being class as green (very good). As to be expected with most panels, some of the corners weren't as accurate as we might have hoped – with the top-right and bottom-right corners faltering the most. This is fairly common amongst modern displays, with perfect uniformity being fairly hard to come by.
As you can see from the slide above, red areas provided diminishing brightness levels, falling around 17 candelas below what is acceptable. Adjacent areas also fell short of 120 candelas of brightness, but not to the same level as the corners.
I was impressed overall by the panel uniformity of this display. The areas that did fall a little short still took nothing away from the overall viewing experience when gaming or general viewing.
Remember, panel uniformity is merely a guide – individual panels will have varying results in this specific area.
Viewing Angles
As far as ISP panels go, the viewing angles weren't incredible on the AW3420DW. Having said that, they weren't the worst either. Colors start to deviate after around 40 degrees, which, let's be honest, is an extremely obscure angle to be viewing this panel from. Overall, I was fairly happy with the viewing angles this monitor provided.
Alienware AW3420DW 34″ Ultrawide Gaming Monitor
Color Gamut
As part of the calibration process, the DisplayCal will give an accurate measurement of the color gamut the monitor can provide. Below are the results of the color gamut test:
From the monitors we've tested so far, this one has got to be one of the best of the bunch when it comes to color gamut volume and coverage. As you can see from the image above, the AW3420DW actually offers up 145.2% of the sRGB color spectrum when properly calibrated. Furthermore, and potentially more impressively, is the 100% Adobe RGB and 102% DCI-P3 color volumes.
With such a large gamut volume, users working within all three major color spectrums will be more than happy with the accuracy this monitor brings to the table. That includes video or photo editing – to an incredibly high standard.
Maximum And Minimum Brightness
We ended the color accuracy and picture quality testing by checking the maximum brightness, minimum brightness, and 120 candelas level on this panel. The results are below:
| Brightness | Candelas |
| --- | --- |
| 100% Brightness | 394 cd/m² |
| 0% Brightness | 77.76 cd/m² |
| 20% Brightness | 120 cd/m² |
Calibrated Profile
For those who want to use our calibrated color profile, you will find a link below where you can download the zip file.
Alienware AW3420DW: Gaming Performance
With color accuracy and picture clarity tested, it's time to put the Alienware AW3420DW to the test in a number of different gaming titles. As this is primarily a gaming display, it'll be interesting to see how it stacks up in this particular department.
As always, I started off by loading my favorite go-to game when it comes to testing the responsiveness of a monitor – CS:GO. Counter-Strike is a fast-paced title that really pushes your monitor to its limits – especially when looking at refresh rates and response times. If your monitor is slow in these departments, you'll experience a number of different screen artifacts, including ghosting and screen tear.
That being said, I was pretty impressed with the experience the AW3420DW gave me, albeit a little more demanding on my PC. I managed to hold 120 frames per second and (when G-sync was enabled) found gaming to be extremely smooth. The aspect ratio was a little strange at first, but nothing too off-putting. Colors were extremely vibrant and really did help with immersion – especially when you pair them with the attractive 1900R curvature.
One thing I will say about this panel is, if you're into competitive gaming, 21:9 definitely isn't the best option available. Whilst it gives you a greater field of view, it can be much harder to pinpoint enemies (in general) and is far more demanding on your system.
After playing FPS for some time, I loaded up a few single-player titles such as Red Dead Redemption 2 and Shadow of The Tomb. As you'd expect, the demand put on the PC using the larger 21:9 aspect ratio (and 1440p resolution) did have a dramatic effect on my overall performance. That said, if you have the right build, this monitor really does provide excellent levels of immersion – sucking you into the virtual world the way only ultrawide monitors can. Color accuracy was extremely pleasing and detail could still be seen in the brightest areas. It would have been nice to see some form of high dynamic range used in this monitor – especially for the price tag. But, unfortunately, that wasn't to be.
Overall, the gaming experience was extremely good. For me, this monitor is definitely suited towards single-player titles, especially large free-roam third-person games like Red Dead and The Witcher. Colors were exciting and the 1900R curve made you feel immersed in gameplay – something a flat panel simply can't replicate.
Final Thoughts
So, there you have it, our comprehensive review of the hugely impressive Alienware AW3420DW – one of the best 34inch ultrawide 120hz gaming monitors on the market.
What can I say about this panel? It really does tick all the right boxes. Excellent gameplay, superb colors, and true immersion that smaller monitors simply can't replicate. The only thing left to discuss is the price – and this thing isn't cheap.
Hitting shelves between $1,100 and $1,300 (depending on when you purchase), this is one of the most expensive monitors you can purchase. That being said, does it offer you all the features a top monitor provides? Well, apart from the low 120hz refresh rate, you'd have to say yes, 100%. The thing with a monitor of this size (and resolution) is; if it was to boast a 240Hz refresh rate, you probably wouldn't be able to hit those frame rates anyway – unless you have a top of the line gaming PC, sporting the latest hardware.
So, overall, whilst this monitor is a little pricey, I still feel it offers everything you'd want for both gaming and productivity scenarios. Thanks to the Nano IPS color it comes equipped with, it is one of the most color-accurate panels we've had the pleasure of testing.
Alienware AW3420DW 34″ Ultrawide Gaming Monitor
---