ASUS ROG SWIFT PG259QN Review
A closer look at the latest 360Hz gaming monitor to come out of the ASUS locker!
Updated: Mar 16, 2022 3:17 pm
Modern monitor technology is evolving at an exponential rate. It seems every couple of months a new monitor arrives with some new technology that separates it from the competition. Well, today, we'll be reviewing one of those exact monitors – the ASUS ROG SWIFT PG259QN.
This is ASUS's latest offering, coming to shelves with an array of impressive specifications that really does make it one of the best gaming monitors the market has to offer. It comes equipped with a 360Hz refresh rate, 1ms GTG response time, and a 1080p resolution – giving you the ability to actually reach the higher end of its variable refresh rate range with the right hardware.
In today's article, we'll be putting the new 360Hz monitor through its paces to see how it stacks up in gaming performance, color accuracy, build quality, and overall value for money – comparing it against some of the market leaders as and when we can.
So, with plenty to get through, let's waste no further time and dive straight into the ASUS ROG SWIFT PG259QN monitor review!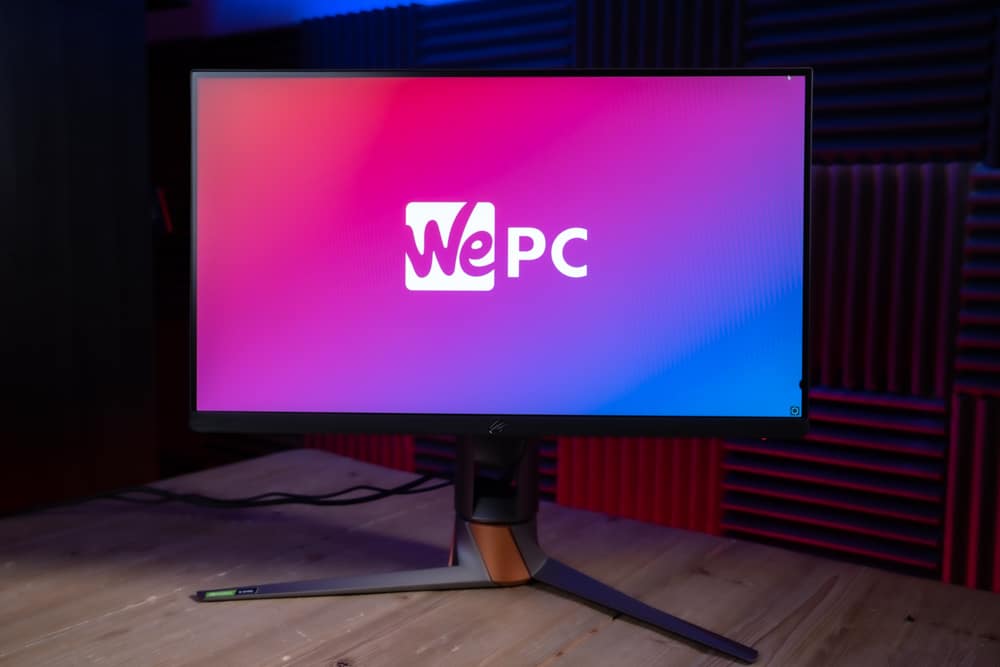 ASUS ROG Swift PG259QN
Specifications
Tech Specs
Brightness
400cd/m2 (Peak)
Color Depth
10 bit (8 bit + FRC)
Backlight technology
W-LED
Panel Manufacturer
AU Optronics
Panel Coating
Anti-Glare/Matte
Dimensions (WxHxD)
557 x 379 x 247 mm (with stand)
Inputs
2 x USB 3.0 (Type-A; downstream), 1 x HDMI 2.0, 1 x DisplayPort 1.4, 1 x 3.5 mm Audio Out
PROS
Extremely good refresh rate
Excellent responsiveness
Fantastic Build Quality
1-360Hz Variable Refresh Rate Range
Good Brightness
What's In The Box
The ASUS PG259QN is a small monitor, and for that reason, it only needs a small box. The box is as you'd expect – displaying the usual marketing shots on the outside alongside some of the main features it comes equipped with. The monitor and the neck of the stand are connected in the box, with the base of the stand requiring assembly before use.
That being said, assembly is very straightforward and self-intuitive, requiring no tools and very little time.
Alongside the panel and the stand, users will find the following items:
ASUS PG259QN
Power Cable/Brick
DisplayPort 1.4
HDMI
USB 3.0 Upstream Cable
User Manual 
Warranty
ASUS ROG Swift PG259QN
Design And Features
With specifications out the way, let's take a more comprehensive look at the build quality, design, and mechanical features the ASUS ROG Swift PG259QN comes equipped with.
Design
Before we touch upon the design, let's first get the elephant in the room out the way. This thing is small – 24.5 inches to be exact. When we unboxed it, the first thing I noticed was just how small it actually looked. I sat it down next to the Alienware AW2721D (a 27-inch panel with very small bezels) and it looked extremely small in comparison. That being said, as far as small monitors go, this once looks absolutely fantastic.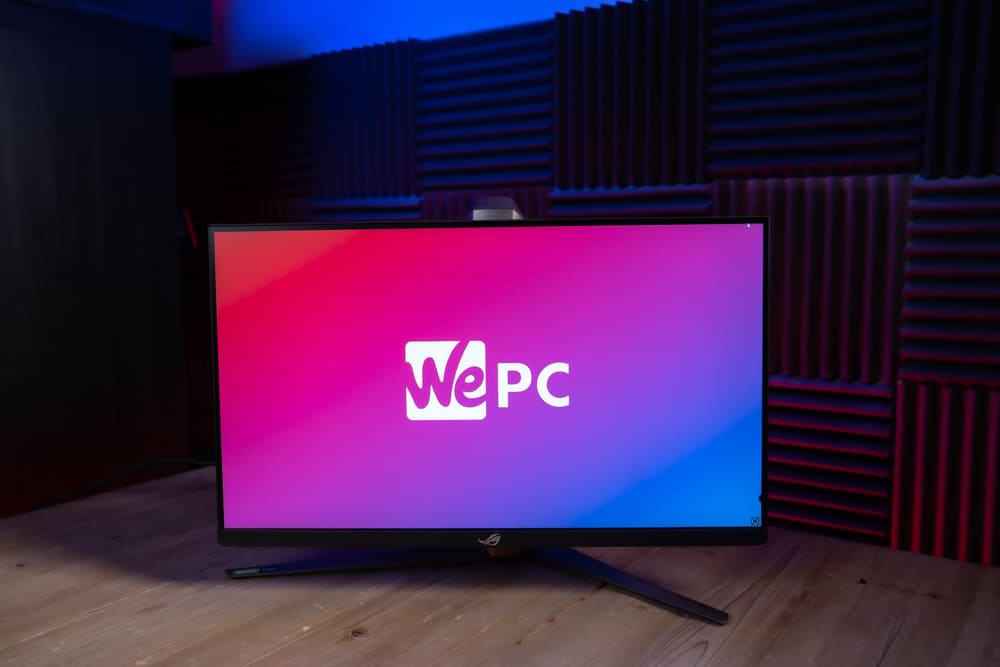 ASUS has given the PG259QN a very gamey aesthetic, characterized by all the usual ROG Swift trademarks we've come to love over the years. The base of the stand is completely metal and has a nice powder-coated finish. ASUS has opted for a copper-on-silver design that I think looks fantastic. It adds a nice premium feel to the monitor's design which carries through to the rear of the panel.
The back offers up more gaming design features, including ASUS's neo-Aztec etchings across the backplate. The PG259QN also offers a large RGB zone in the design of ASUS's eye logo. It fits nicely and contrasts well against the silver of the stand. Overall, a very nice looking panel but one that definitely leans more towards a gamer.
Build Quality
ASUS is rarely criticized for their monitor's build quality – so it's no surprise to see another nicely constructed panel come to fruition. I must say, the ASUS PG259QN feels absolutely rock solid – seriously. It's one of the steadiest, most robust monitors I've used in some time. The stand itself is completely wobble-free, providing excellent stability no matter how hard you rage. It just feels extremely premium – mainly thanks to its metal construction.
That said, there is a decent amount of plastic used on this monitor, but that's fairly normal in most modern panels. The plastic used feels of good quality and offers a decent amount of resistance when pressurized during tests. The only area of this monitor that feels even slightly flimsy is the bottom frame on the front of the monitor. You can pry it back slightly if you tried, but this is nothing to be overly concerned about. For the most part, this is one of the most well-built monitors I've tested.
Panel Coating
The PG259QN offers an anti-glare coating that is made from plastic. Whilst it does a very efficient job of mitigating natural light sources – and manmade light for that instance – it does tend to pick up fingerprints fairly quickly. If you have quite oily skin and like to adjust your monitor regularly, chances are you'll need to clean the monitor fairly often.
Bezels
Looking at bezels briefly, the PG259QN has some of the smallest I've seen – competing with the Alienware AW2721D and its InfinityEdge screen. The sides and top bezel measure in at a mere 7mm, whilst the bottom edge is 18mm. Whilst this screen is only small, the near frameless design does enable you to get fully immersed in your game.
Stand
To reiterate what's already been said, the stand on this monitor is absolutely fantastic. It offers excellent levels of stability and really showcases very little wobble – if any at all. Adjustments feel very robust and well made – actually requiring a fair amount of effort to move when adjusting its position.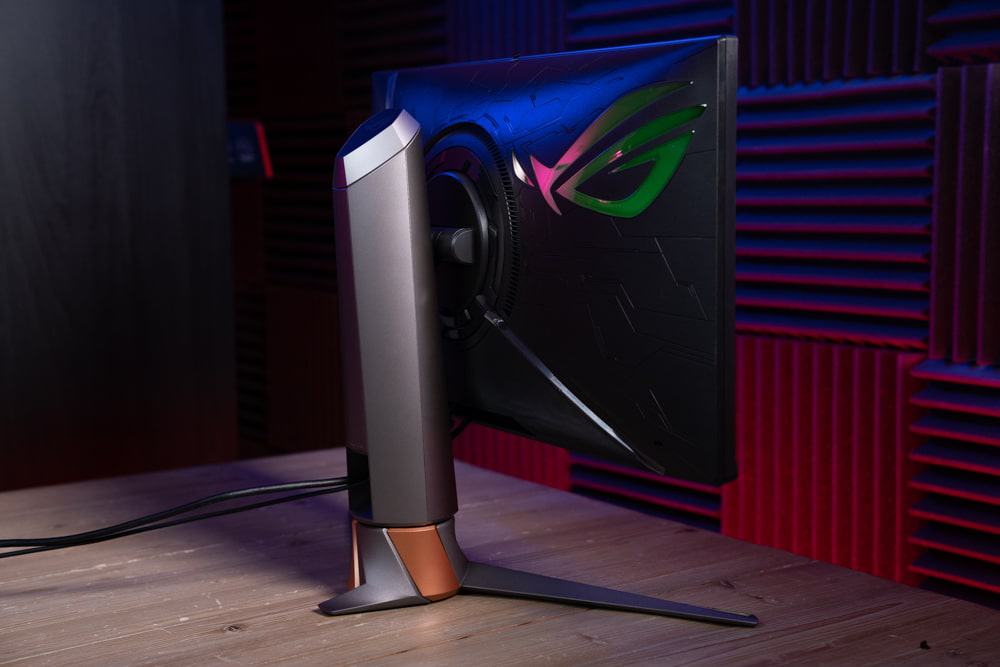 As far as adjustments go, the PG259QN has tilt, swivel, height, and pivot functionality. That's more than enough room to find the absolute perfect viewing position. And for those wondering why you'd ever need pivot functionality from a high-end gaming monitor, it actually helps with swapping out cables immensely.
Below are the full adjustments available with this particular panel:
Forward Tilt – 5 degrees
Backward Tilt – 20 degrees
Left Swivel – 25 degrees
Right Swivel – 25 degrees
Pivot – 90 degrees right (0 left)
Height – 120mm
ASUS ROG Swift PG259QN
Inputs
ASUS hasn't gone crazy with the inputs for this monitor, and that's mainly because it's tailored towards one very bespoke gaming scenario – competitive esports titles.
That being said, it still has a good amount of options available – especially when you consider the size. With 2 x USB 3.0 ports, you'll be able to hook up various peripherals if you deem necessary. It also offers an HDMI, DisplayPort, and a 3.5mm audio-out headphone jack.
See specifications for a full list of this monitor's inputs
OSD
Lastly, we have the on-screen display. ASUS, for me, has always excelled in this department – with the PG259QN providing the same user-friendly design we've seen in countless other ASUS variants. Navigating the menus is very self-intuitive thanks to the nicely positioned joystick found at the rear of the monitor. Alongside the joystick, you also have access to several shortcut buttons that open up your game mode or color preset.
Inside the menu, you have a tonne of options for altering the color and picture quality of this panel. A dedicated gaming menu allows you to change the overdrive settings, GameVisual, and dark boost. Furthermore, with ASUS's GamePlus feature, you can add a timer, crosshair, stopwatch, or FPS counter to your screen to track your progress.
All the usual brightness, contrast, and color settings are also available in the OSD, including a G-sync menu, input settings, and all your RGB settings as well.
Color Accuracy & Picture Quality
In the past, it wasn't unusual to see gaming-tailored monitors fall a little short when it came to general color accuracy. Luckily, many gaming monitors prioritize good colors in today's market, and the PG259QN is definitely one to add to that list.
ASUS decided to pre-calibrate all PG259QN monitors that come out of the factory – giving users a much more realistic experience right out of the box.
Whilst that is the case, we'll still be performing all the relevant color tests – including most presets and a custom, calibrated mode too.
| Preset | White Point | Black Depth | Contrast Ratio | Average ΔE*00 | Gamma |
| --- | --- | --- | --- | --- | --- |
| IDEAL | 6500K | 0.00cd/m² | Infinite | 0.00 | 2.2 |
| RACING (Out The Box) | 6708K | 0.1036 cd/m² | 1198.6:1 | 0.48 | 2.2 |
| sRGB Preset | 6706K | 0.1296 cd/m² | 1215.1:1 | 0.54 | 2.19 |
| Scenary Preset | 6725K | 0.1002 cd/m² | 1194.6:1 | 2.69 | 1.99 |
| RTS/RPG Mode | 6713K | 0.1015 cd/m² | 1173.5:1 | 1.43 | 2.39 |
Out of the box the PG259QN was set to RACING mode (pre-calibrated from the factory) and looked pretty good. We ran an initial test and the results were extremely encouraging. We saw a white point of 6708K (+3% IDEAL), low black depth, and excellent contrast for an IPS panel (1198:1). The average delta was much better than the 0.7 DE that the calibration document suggested. It came in at an impressive 0.48 – the single best result we've seen of any monitor we've tested.
The sRGB preset showcased very similar results to that of the RACING preset – with white point, black depth, and average DE being almost identical. However, it did have a better contrast ratio (1215:1). Unfortunately, users are unable to alter the brightness when in this preset, with luminance being stuck on 157 candelas – higher than the recommended level of luminance for long usage.
Both the Esports mode and RTS mode took a drop when it came to average DE, mainly because they focused on colors that would benefit those specific gaming scenarios. The esports mode was noticeably washed out whereas the RTS mode was a little more vibrant.
| Preset | White Point | Black Depth | Contrast Ratio | Average ΔE*00 | Maximum ΔE*00 | Gamma |
| --- | --- | --- | --- | --- | --- | --- |
| IDEAL | 6500K | 0.00cd/m² | Infinite | 0.00 | 0.00 | 2.2 |
| RACING (In-depth) | 6726K | 0.1039 cd/m² | 1148:1 | 0.53 | 2.09 | 2.2 |
| Custom Calibrated (In-depth) | 6514K | 0.1018 cd/m² | 1176.3:1 | 0.34 | 3.57 | 2.2 |
We took the most accurate color preset, which in this scenario was the RACING mode, and ran a more in-depth test to see what the maximum DE was. For racing mode, we saw a slight dip in contrast ratio and average DE (0.53). The maximum DE in the in-depth test was 2.09, not ideal but by no means terrible either.
We quickly calibrated the monitor and utilized the USER profile – changing the RGB settings to 100/97/95. We used the DisplayCAL to calibrate the monitor in full and then ran another in-depth test afterward.
The results were pretty good – and yet slightly confusing. The white point was near perfect at 6514K (0% from IDEAL) and the black depth stayed strong at 0.101. Weirdly, the average DE for the calibrated profile ran out at 0.34 – very good – whereas the maximum DE was 3.57. This was most likely a user/software error, as a quick look over the color results only showed one shade of green at this level of deviation.
Panel Uniformity
Panel uniformity is a test we run to check how uniform the luminance and colors are across the entirety of the screen. During this test, the center square is used as the reference space. Every other square is then tested to see how far it differentiates from the reference.
In an ideal world, we want every square to be green, meaning it hasn't broken the differential threshold – something we can set at the start of the test.
Note: results will differ from panel to panel.
Like the Alienware AW2721D, this was one of the most accurate monitors I've tested from a panel uniformity standpoint. As you can see from the results above, the only segment on the entire monitor that was considered "average" was the top left.
Every other section on the monitor was considered good panel uniformity – making it extremely accurate in this specific category.
Viewing Angles
The viewing angles on the PG259QN were as expected – very good. IPS panels generally excel in this area and that was certainly the case here. Viewing the monitor from angles of 45 degrees and above was perfectly fine, with very little color shift being noticeable.
ASUS ROG Swift PG259QN
Color Gamut
As part of the calibration process, the DisplayCal will give an accurate measurement of the color gamut the monitor can provide. Below are the results of the color gamut test:
Despite this monitor showcasing very good calibrated colors right out of the box, it didn't offer an overly wide color gamut outside the sRGB spectrum.
As you can see from the graphic above, the PG259QN utilizes a basic sRGB color gamut that only offered 97% coverage and volume. That percentage dropped dramatically over Adobe RGB (66.9%) and DCI-P3 (68.8%).
As always, the color gamut was a little lacking in the blue and orange ends of the color spectrum. That being said, for a monitor that is mainly targeting gamers and high refresh rates, the color gamut isn't the worst I've ever seen. This is still a perfectly acceptable monitor for users working with the sRGB color spectrum.
Maximum And Minimum Brightness
We ended the color accuracy and picture quality testing by checking the maximum brightness, minimum brightness, and 120 candelas level on this panel. The results are below:
| Brightness | Candelas |
| --- | --- |
| 100% Brightness | 516.17 cd/m² |
| 0% Brightness | 44.24 cd/m² |
| 26% Brightness | 120 cd/m² |
ASUS ROG SWIFT PG259QN: Gaming Performance
With the color tests out of the way, it was time to put this monitor to the test in what it was designed for – gaming. Whilst this panel is tailored towards competitive esports gamers, we will still run it through a number of other genres – including single-player story-based titles.
I wasted no time and loaded up a competitive FPS game to see how the PG259QN performed with fast-moving images. To nobody's surprise, it was extremely good. I played a couple of rounds of deathmatch in CS:GO and was very happy with the overall smoothness of the gameplay. I was pushing around 300FPS with G-Sync enabled and the experience was very lucid and fluid. One area where lesser-responsive monitors fall short in games like CS:GO is when the enemies are running across the screen and you're spraying a gun. This often results in a jittery visual experience that is offputting and outright annoying. Fortunately, with a 360Hz refresh rate, that was no longer the case.
One thing I will say about this monitor, however, is that telling the difference between 240Hz and 360Hz is quite difficult. We had to run two Blurbuster UFO tests side by side to start to get an idea of the difference. You'd have to have an extremely well-trained eye to notice the difference between the two. Out of the box, the Overdrive settings were set to 'normal' and responsiveness felt snappy and sharp. However, it did have an 'Extreme' mode which boosts your overdrive to its most intense setting. Like most modern panels with this feature, the PG259QN did experience a little bit of overshoot when cranked to 'Extreme' – most noticeable when running the Blurbuster test. That being said, the overall gaming experience was of excellent quality.
We loaded up some single-player titles shortly after to see how immersive the 24.5″ monitor could be and, to my surprise, it did offer quite a bit. Normally, single-player titles like SOTTR and Red Dead 2 look a bit lackluster on small panels. However, thanks to the small bezels and the great colors right out of the box, both games were actually a joy to play. As with CS:GO, both SOTTR and Red Dead 2 displayed a very smooth gaming experience.
Using this monitor in its HDR10 certified mode left a little to be desired – as per usual. At max brightness, the monitor only just pushed 425 candelas which, in modern monitors, is not considered that great for HDR. That said, we utilized the feature in a number of different games and there was a slight difference. A little extra detail in bright areas and dark spots, but overall, not a great deal of difference when compared to its SDR setting.
If you're used to the picture clarity of 1440p and above, you're probably going to be slightly disappointed by the drop back to 1080p. It doesn't look spectacular when it comes to general picture quality, especially when playing games that offer a lot of detail. That said, the lower resolution does allow you to reach the higher end of the variable refresh rate range – with our 3080 setup regularly hitting 320+ FPS when settings were optimized for high frame rates.
Overall, it's hard to knock this monitor when it comes to gaming. It performs extremely well and offers little-to-no motion blur or ghosting when properly optimized. Gaming feels extremely lucid, with both foreground and background features staying very clear.
Final Thoughts
So, there you have it, our complete review of the ASUS ROG SWIFT PG259QN 360Hz gaming monitor.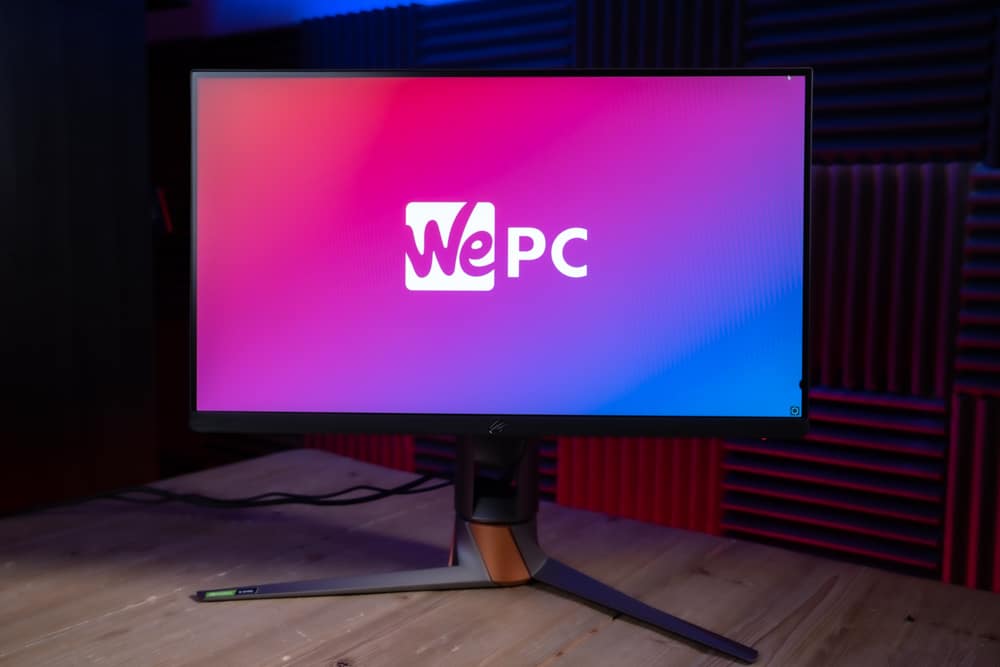 The only thing left to discuss is value, and right now, this monitor currently retails at an eyewatering $600+ dollars. Now, that's not a cheap investment. However, if you want the best of the best when it comes to response, this is the kind of cash you'll have to fork out. That said, does it showcase good value for money?
For me, it's a tough one. If you're into competitive esports and you're looking for any edge you can get over your competition, you'd have to say at its current price, it does offer the best of the best. Whether that is good value for money, we'll let you decide.
However, if you're not into competitive FPS, this monitor really doesn't offer a great deal for the casual player. It's only 24.5 inches, only offers a standard RGB color gamut, and only displays a low 1080p resolution. You'd have to say that's the perfect recipe for limited levels of immersion.
Ultimately, whilst this monitor is a bit of a one-trick pony, it still outshines its rivals with its fantastic smoothness and overall image clarity. The ASUS ROG SWIFT PG259QN really is the next step in gaming monitor technology – the first of its kind but most certainly not the last.
ASUS ROG Swift PG259QN
---