ASUS TUF Gaming VG289Q Monitor Review
The search for a quality, budget-oriented 4K gaming monitor is over - the ASUS TUF Gaming VG289Q ticks all the right boxes and offers the market something it was definitely lacking
Updated: Apr 22, 2022 10:23 am
For many, buying a 4K monitor for their gaming needs is nothing more than a pipe dream – a hope that probably won't come to fruition thanks to the huge price tags that come equipped with most high-resolution gaming panels.
That said, ASUS has decided now's the time to unleash a budget-oriented 4K gaming monitor that brings high-resolution and immersion to the budget end of the price spectrum. That's right, their ASUS VG289Q ticks all the right boxes as far as single-player gaming is concerned.
Whilst this isn't the best performing monitor on the market, it certainly offers something other 4K monitors don't – an affordable price tag. In the following article, we'll be testing the VG289Q for color accuracy, picture quality, and overall gaming performance.
So, with plenty to get through, let's waste no further time and dive straight into it!
ASUS TUF Gaming VG289Q
Maximum Resolution
3840 x 2160
Specifications
Tech Specs
Maximum Resolution
3840 x 2160
Panel
Innolux M280DCA-E3B
Color Depth
10 bits (8 bits + FRC)
Backlight technology
W-LED
Panel Coating
Anti-Glare/Matte
Dimensions (WxHxD)
639.5 x 369.4 x 54 mm
Inputs
2 x HDMI 2.0, 1 x DisplayPort 1.2, 1 x 3.5mm Audio Out (Headphone Jack)
PROS
Stunning picture clarity
Very immersive gaming experience
Fantastic value for money
Nice depth in bright areas
CONS
Not true HDR quality
Inputs are lacking
Low refresh rate
Slow response time
What's In The Box
As always, the box was fairly uneventful for the TUF Gaming VG289Q monitor – packaged in a layer of protective styrofoam and wrapped in a thin layer of foam to ensure safe transit. Inside the box you will find the following items:
ASUS TUF Gaming VG289Q
Small power pack and plug
DisplayPort 1.4
User Manual
Warranty
ASUS TUF Gaming VG289Q
Maximum Resolution
3840 x 2160
Design And Features
The following section will be a more in-depth look at some of the design (and mechanical) features this monitor comes equipped with:
Design
I've used a tonne of TUF Gaming monitors over the years and it still surprises me how the design rarely changes. The VG289Q offers up a fairly basic aesthetic that is great for both office and home use. Despite the monitor not offering a great deal in terms of gaming aesthetics, it still feels more exciting than your generic office panel.
That said, this monitor is a careful balance between productivity and gaming aesthetics, designed to fit almost any environment – clever. The ASUS logo can be seen along the bottom bezel with a chrome finish – as you'd expect – with further TUF branding being found on the bottom of the stand itself. Whilst the stand is quite basic, there are a couple of design features on offer, including a neo-Aztec design embossed into the base alongside accents of red throughout.
The back really doesn't offer anything noteworthy as far as design goes – apart from more Aztec-esque carvings and some stylish red writing – indicating the stand's adjustability.
Build Quality
Looking at build quality, the ASUS TUF Gaming VG289Q really did excel in this department. Before we discuss the pros, however, let's quickly touch upon the negatives.
Firstly, the entire monitor seems to be made predominantly from plastic – including the stand. Whilst this isn't a huge issue, and actually lowers the weight of the monitor, it doesn't feel nearly as robust as other monitors that use more robust materials. That said, that's pretty much the only negative I could find as far as build quality was concerned.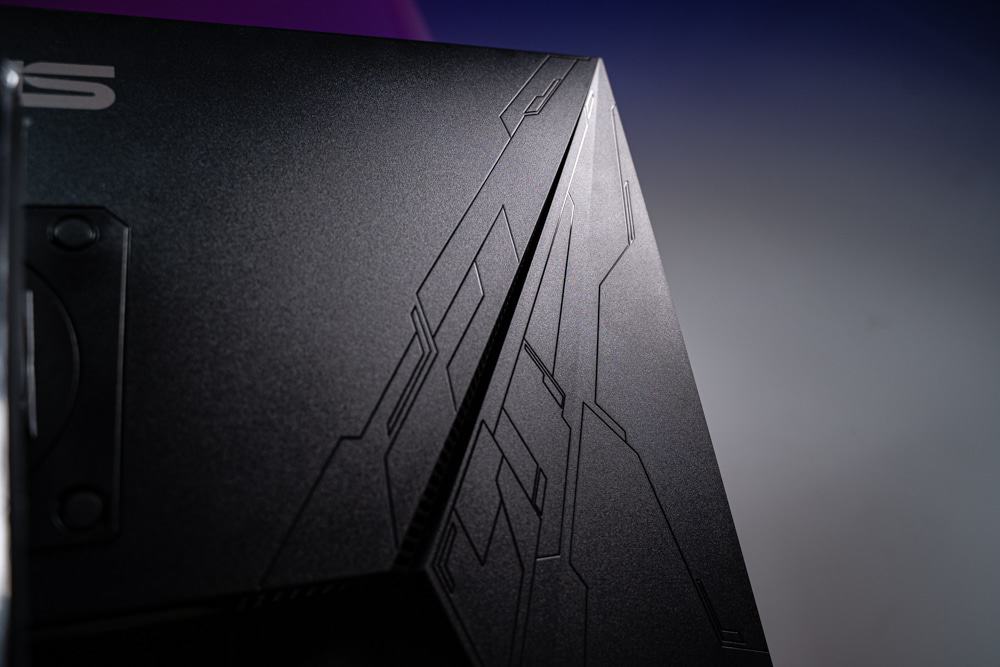 Overall, the monitor felt nicely made and offered little-to-no wobble when in use – great for gamers that enjoy the occasional rage outburst.
Panel Coating
Like many of today's monitors, the VG289Q comes equipped with an anti-glare coating (in matte) with a 3H hardness. The coating does an excellent job of mitigating both natural and manmade light sources, giving gameplay on this monitor an added layer of immersion during use.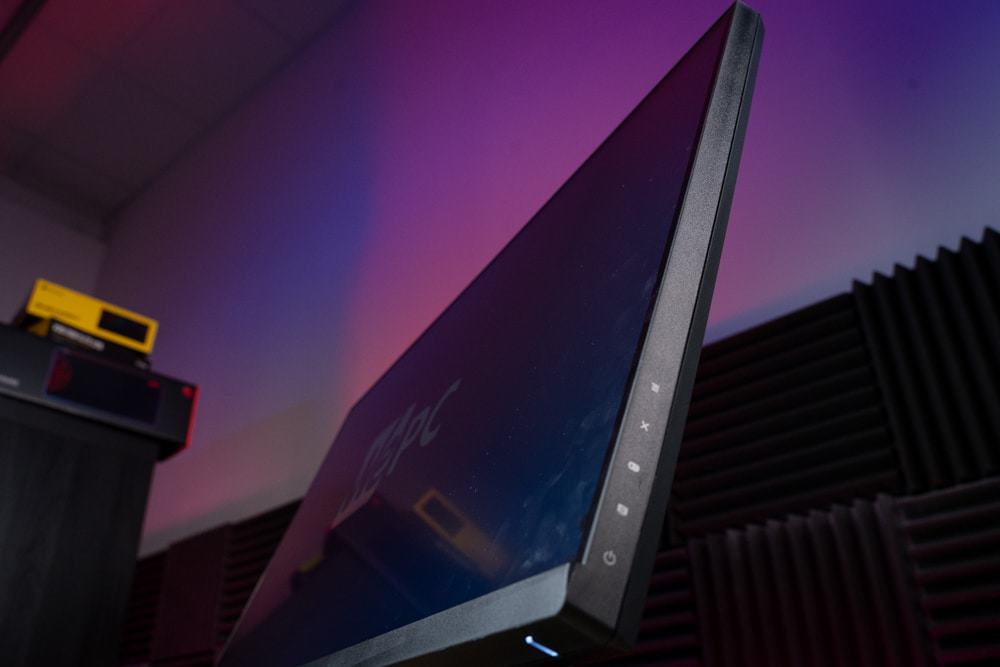 Bezels
The ASUS VG289Q comes with very thin bezels that help to create that feeling of true immersion. Pairing the 9mm top and side bezels with the almost frameless design, it's easy to see why people get immersed when gaming in 4K on this panel.
The bottom bezel is closer to 20mm but, thanks to the careful design, doesn't take anything away from the overall viewing experience.
Stand
If you follow our monitor reviews often, you'll already be aware of the praise we've given some of the other panels within the TUF Gaming range. ASUS is one of the best brands as far as stands are concerned, with their VG289Q offering the same levels of functionality and robustness that you might expect from their more premium options.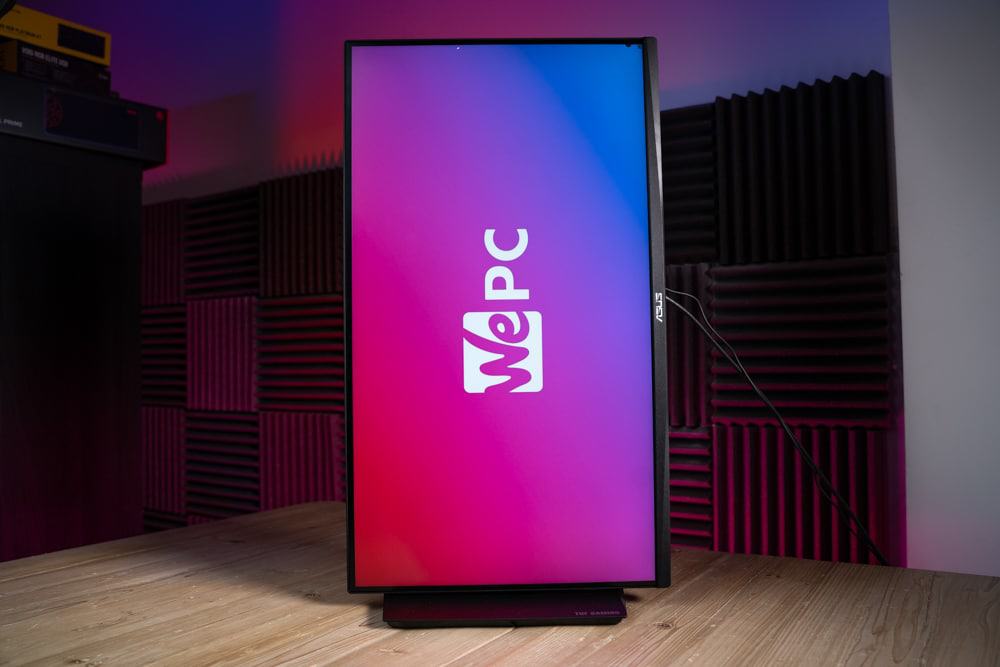 This budget 4K display comes with all the functionality you could require for both gaming and leisure viewing. It comes equipped with tilt, height, swivel, and even pivot adjustability – something you seldom see in monitors of this size and price point. All functions feel extremely smooth and sturdy, with very little wobble experienced over the entirety of my time testing it.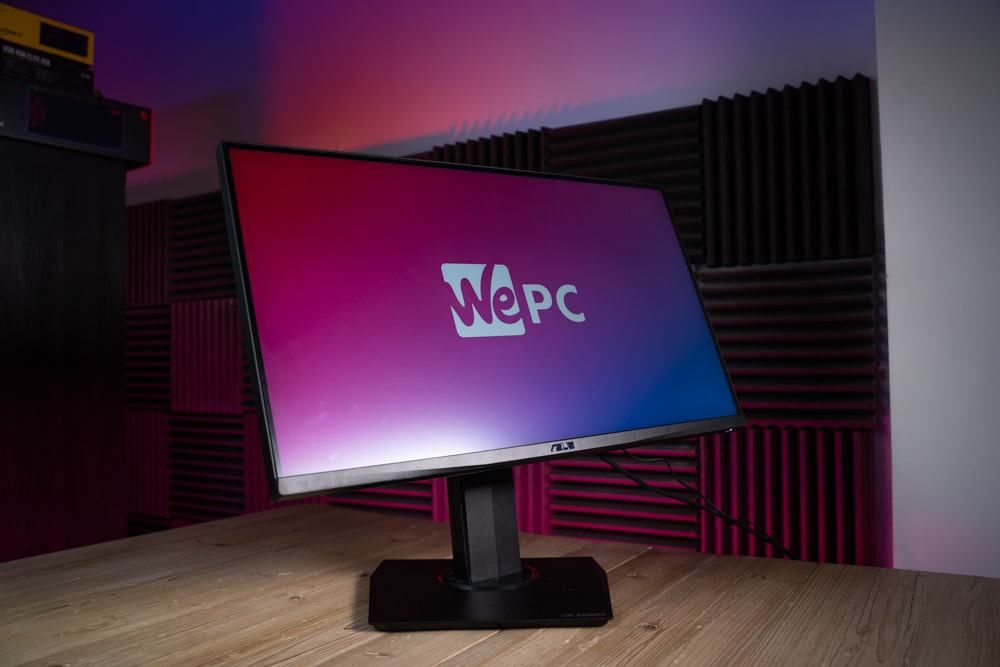 Below we have listed exactly what the stand is capable of:
Height – 150mm
Tilt – 5° (forward) 20° (backwards)
Swivel – 62°
Pivot – 90°
Inputs
The ASUS VG289Q didn't provide as many inputs as we'd hoped, only offering 2 x HDMI 1.4, 1 x DisplayPort 1.2, and a 3.5mm audio jack for headphones. Despite this being fine for most users, it still feels a little lacking when compared to other modern panels  – most of which offer some form of USB 3.0 input.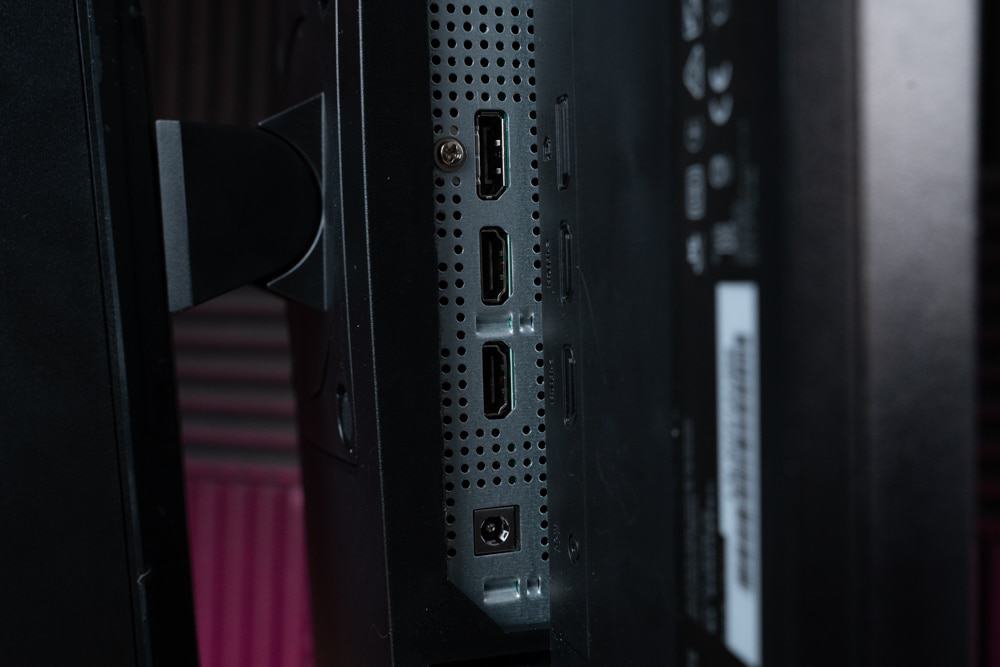 All the inputs are found at the rear of the monitor and need inserting in a vertical fashion – as per usual.
OSD
Finally, we have the on-screen display. I've always been a fan of the menu system ASUS has used over the years, with the VG289Q not disappointing. ASUS has implemented the classic joystick menu button which sits at the right-hand side of the rear of this panel. It's easily accessible and requires very little effort to cycle the menus it offers.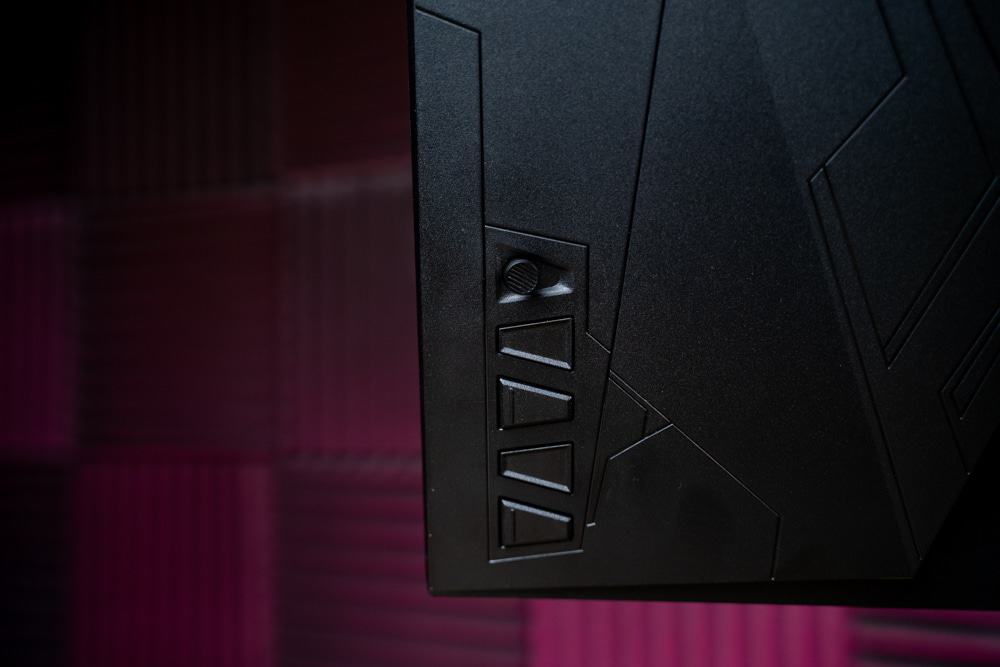 Like all ASUS monitors, users of the VG289Q have a tonne of versatility and customization at their fingertips. For gamers, ASUS has equipped the monitor with a number of different game presets and enhancements which can be added as per your requirements. All presets offer a change to the overall color profile, with some benefitting unique scenarios over others.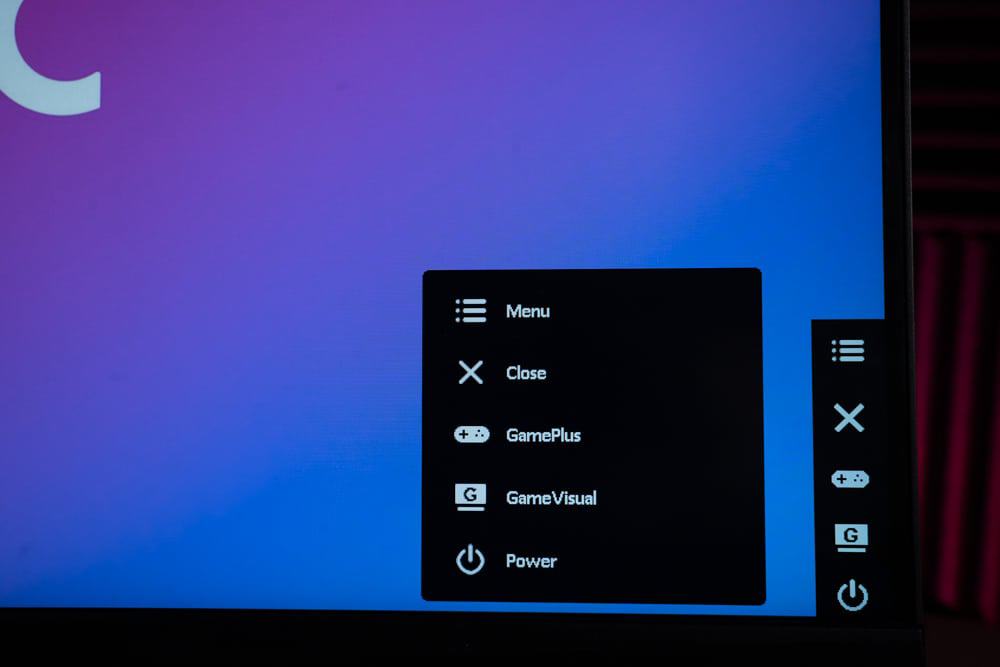 Users will be able to adjust brightness, contrast, and all the other unusual suspects that come with an ASUS monitor. Adding a timer or FPS counter is also an option with this monitor, easily toggled within the game enhancement section.
You have access to the built-in audio speakers as well, with volume changes being easy to find and adjust.
Color Accuracy & Picture Quality
Next up we'll be taking a look at the color accuracy and picture quality this panel provides. ASUS says the VG289Q offers a 90% DCI-P3 color gamut, more than most gaming monitors in today's market (and of this price point). With claims such as this, it'll be very interesting to see how truly accurate the colors on this monitor are.
| Preset | White Point | Black Depth | Contrast Ratio | Average ΔE*00 | Gamma |
| --- | --- | --- | --- | --- | --- |
| IDEAL | 6500K | 0.00cd/m² | Infinite | 0.00 | 2.2 |
| User (Out The Box) | 6639K | 0.1074 cd/m² | 1109.8:1 | 1.88 | 2.3 |
| FPS Preset | 6655K | 0.1838 cd/m² | 660.1:1 | 2.66 | 2.24 |
| Scenery Preset | 6674K | 0.1054 cd/m² | 1125.4:1 | 4.1 | 2.25 |
As you can see from the table above, we decided to run a color accuracy test on three of the VG289Q's color presets. For me, these are probably the most popular presets the monitor offers, covering most of the demographic that would pick this particular panel up.
Straight out the box, I was pretty impressed by the results this monitor offered – bringing good white point, black depth, and contrast ratio when in the User (out the box) preset. Better still, with a 1.88 average delta, the colors provided by the default preset were incredibly accurate.
We tested the FPS preset next and, as expected, almost every result took a dip when compared against the User preset. Despite the white point still being excellent at 6655K, black depth, contrast, and average deltas all saw a decline from what we class as IDEAL results. The contrast ratio was the biggest concern for me personally, seeing it drop from around 1000:1 to 660:1. That said, the average color delta was still very acceptable at 2.66 overall.
Lastly, we decided to run a preset tailored more towards entertainment viewing and leisure. We ran the Scenery preset through some initial tests and the results were hit and miss. The average delta was way out at 4.1 and the white point was the highest we recorded (6674K). Black depth and contrast ratio were both good, but overall, this particular preset didn't offer nearly as much accuracy as we'd hoped for.
| Preset | White Point | Black Depth | Contrast Ratio | Average ΔE*00 | Maximum ΔE*00 | Gamma |
| --- | --- | --- | --- | --- | --- | --- |
| IDEAL | 6500K | 0.00cd/m² | Infinite | 0.00 | 0.00 | 2.2 |
| User (Out The Box) Preset | 6589K | 0.1101 cd/m² | 1179.8:1 | 2.37 | 4.68 | 2.31 |
| Custom Calibrated (In-depth) | 6556K | 0.1125 cd/m² | 1061.7:1 | 0.19 | 0.73 | 2.2 |
We ran a more in-depth color accuracy test on the most accurate uncalibrated preset to see how it faired in a wider color range. We chose the User settings and was pleasantly surprised by the results. Whilst most results were the same, the one takeaway from this test was the excellent maximum delta of 4.68. Whilst this isn't ideal as an average figure, it's really not bad for a maximum delta across all colors tested.
That said, we wasted no time in calibrating the monitor to see how accurate we could get the colors to be on this panel. As you can see from the results above, the ASUS VG289Q offered extremely accurate colors after a quick calibration. We altered the R/G/B figures to 100/95/100 before doing so, as these were deemed the most accurate.
We ran an in-depth test after calibration and, as you'd expect, results were hugely improved. White point was almost perfect at 6556K and black depth measured in at 0.1125 cd/m². More impressive, however, was the average delta of 0.19 – one of the lowest we've seen in any panel we've tested. Maximum delta was way under 1, making this a hugely accurate panel from a color standpoint. 
Panel Uniformity
Panel uniformity is a test we run to check how uniform the luminance and color is across the entirety of the screen. During this test, the center square is used as the reference space. Every other square is then tested to see how far it differentiates from the reference. In an ideal world, we want every square to be green, meaning it hasn't broken the differential threshold – something we can set at the start of the test.
Note: results will differ from panel to panel.
We were extremely impressed with the overall uniformity of this panel, with very little variance seen when comparing both luminance and color delta.
On a lot of modern panels, you'll see large differences in the corners – however, that wasn't the case here. Almost every section of the monitor showcased a good uniformity score, resulting in almost every sector being classed as "green".
Viewing Angles
The viewing angles of this panel were pretty good, with only little color deviation experienced when at extreme angles of viewing. For the most part, both horizontal and vertical viewing angles were very good, allowing you to use this monitor in a meeting type scenario.
Color Gamut
Moving onto the color gamut briefly, ASUS has marketed this panel as offering 90% of the DCI-P3 color spectrum. That's a much wider range than what sRGB offers, so it'll be interesting to see where it lies.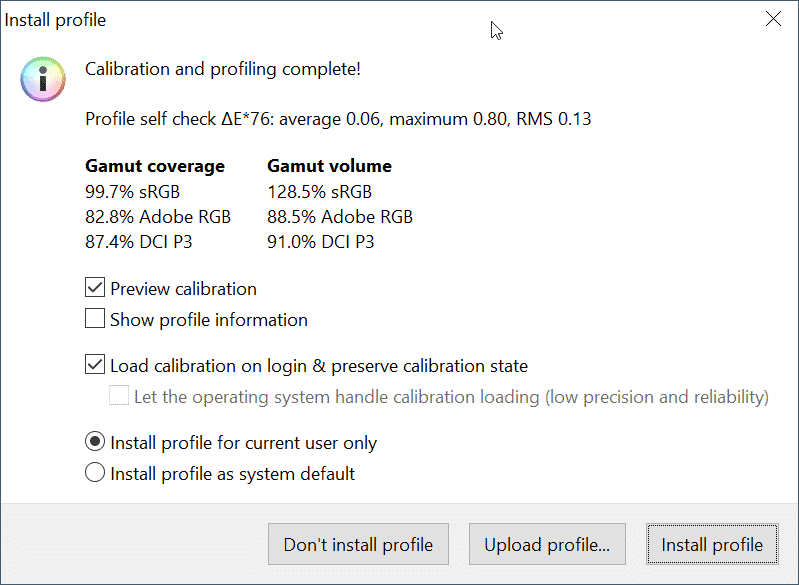 As you can see from the results above, the ASUS VG289Q scored highly when it comes to color gamuts – bringing 99.7% sRGB, 82.8% Adobe RGB, and 87.4% DCI-P3  coverage to the table. That's pretty much exactly what ASUS had in their specs list, filling me with confidence in not only this panel but ASUS as a brand.
Luminance
Lastly, we took a quick look at the brightness levels to see where this monitor sat. Below are the results of our tests:
| Brightness | Candelas |
| --- | --- |
| 100% Brightness | 363.59 cd/m² |
| 0% Brightness | 37.85 cd/m² |
| 27 Brightness | 120 cd/m² |
ASUS VG289Q: Gaming Performance
Moving onto gaming swiftly, it's safe to say that this monitor was extremely hit and miss. First, let's start off with the positives.
For me, the biggest positive this monitor came equipped with was the immersive nature it provided when gaming. When I was playing single-player titles such as Red Dead Redemption 2 and Shadow Of The Tomb Raider, I really felt like I was sucked into the storyline at all times. Not only was the picture quality absolutely flawless, but the general gameplay felt pretty smooth for the most part. Obviously, we had FreeSync enabled – meaning a lot of the screen tear that would usually occur with a 60Hz panel was mostly eradicated. Furthermore, colors all felt vibrant and immersive, increasing overall enjoyment quite a lot.
However, that's pretty much where the positives end. I quickly finished up with the single-player titles and loaded something a little more competitive. CS:GO was the first game to be tested on this panel and, yep, you guessed it, the experience was far from enjoyable. Before I go on, it's worth mentioning that I do use a 240Hz monitor on a day-to-day basis for gaming, so making the switch back to 60Hz is obviously going to feel terrible. However, for the purposes of this article, I did try to keep an open mind.
That said, CS:GO felt dreadful. It's hard to explain, but fast-paced games just felt 'juddery' and laggy – especially when spraying a weapon through a smoke, for example. Everything just felt a little 1990's, if that makes sense. The lack of a high refresh rate really diminished the overall quality of the gameplay. Moving onto the response time and things didn't get much better. With a response time rated at 5ms, it's safe to say that ghosting was most certainly an issue when playing any fast-paced title – including CS:GO, Dirt 5, and COD.  Whilst it wasn't super-noticeable, you could clearly pick up where the pixels simply couldn't change color fast enough.
Furthermore, using the monitor's built-in HDR didn't really add much to the overall viewing experience. It did create a little more detail in those usually blown-out bright areas, but nothing to write home about.
Ultimately, as I said earlier, the gameplay was very hit and miss for me personally. Whilst it did perform well in single-player titles, it fell massively short in other, more competitive game styles.
Final Thoughts
So, there you have it guys, our comprehensive breakdown of the ASUS VG289Q 4K gaming monitor. For me, I feel this panel really does fill a void in today's market – the budget 4K monitor sector.
For many, buying a 4K gaming monitor is merely a pipe dream – an idea that won't really come to fruition as most 4K displays come equipped with huge price tags attached. That said, ASUS has addressed this issue by providing the market with an efficient 4K monitor on a budget.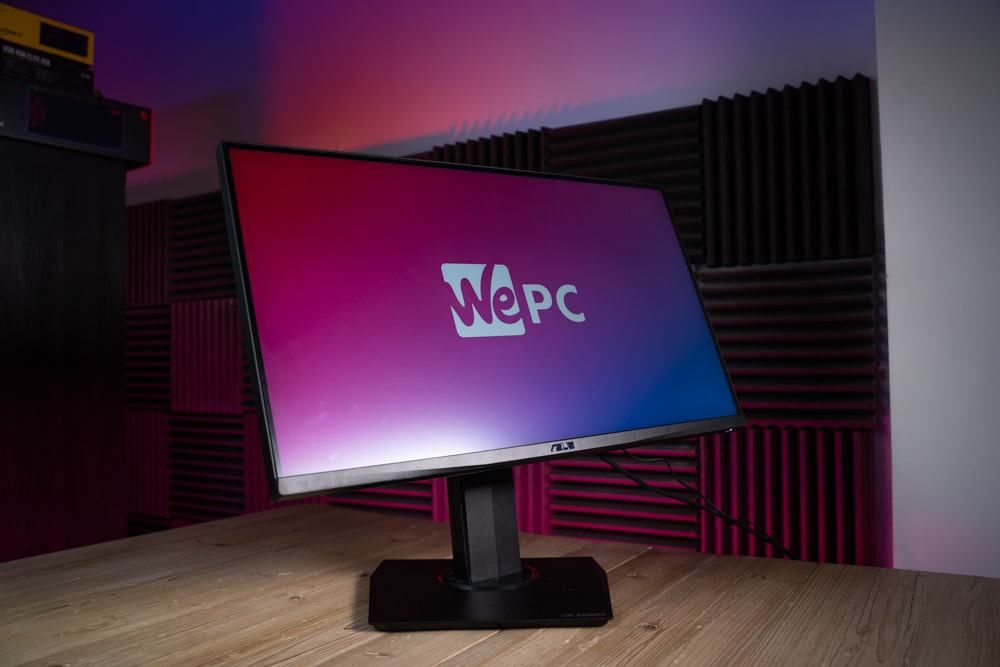 Whilst it isn't the best for competitive gaming, it certainly ticks a lot of the right boxes when it comes to single-player titles and overall immersion.
Ultimately, if you're looking for a budget 4K gaming monitor that is great for immersive games and last-gen consoles, the ASUS VG289Q should definitely be on your shortlist. It also offerings a wide color gamut and excellent color accuracy right out of the box, making it great for editing in the sRGB and  DCI-P3 color spectrums.
ASUS TUF Gaming VG289Q
Maximum Resolution
3840 x 2160
---