noblechairs Epic Copper Edition gaming chair review
Opulent aesthetics, average ergonomics
Updated: Jan 9, 2023 10:30 am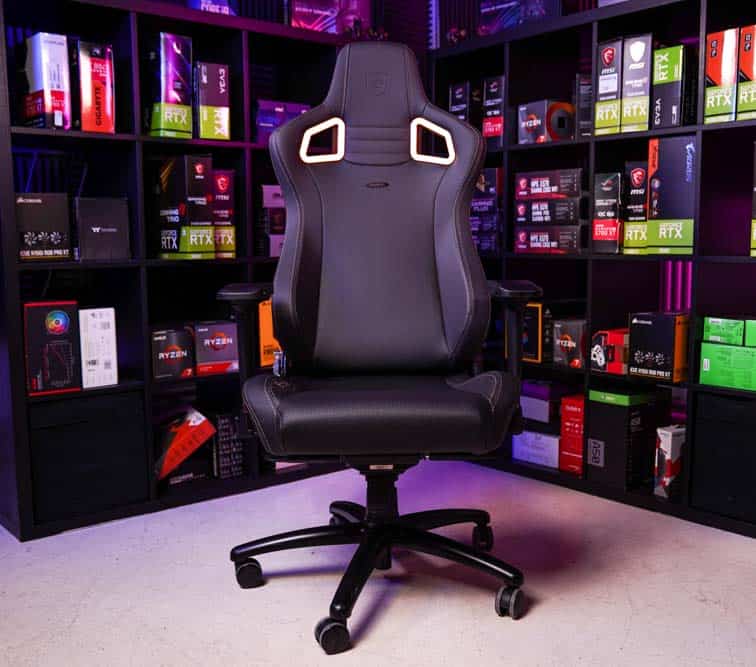 We've tested a lot of gaming chairs at WePC, but none of them quite caught everyone's eye as much as the Noblechairs Epic Copper Edition. It combines Noblechairs' well-known elegant and professional design philosophy with striking copper-colored accents. It's all well and good having a chair that visually oozes opulence, but how does it feel?
noblechairs Epic Copper Edition gaming chair
Backrest angle range
90° to 135°
PROS
Industry-leading materials
Good build quality
Very comfortable
Almost effortless build process
CONS
No included lumbar support or neck pillow
Plastic copper accents were disappointing
Tech Specs
Backrest angle range
90° to 135°
Casters
60ml - suitable for hard and soft flooring
Assembly
Noblechairs suggests two people for the build process of the chair. However, even with one person assembling the chair, it was still smooth sailing as the instructions are fantastic. They have clear illustrations and a portion of concise text to explain each step, which is more than can be said for some other chair brands.
The Noblechairs Epic Copper Edition came together quickly, with the total build time taking only around 30 minutes. All in all the assembly ranks very highly in terms of speed and ease, not quite top tier, but pretty close.
Comfort
Unfortunately, Noblechairs chose to omit a lumbar or neck pillow with the Noblechairs Epic Copper Edition, unless you're willing to purchase them separately. However, with that aside, the base of the chair is a particular standout. it is a balancing act between squishy for comfort, and firm for posture. Additionally, the base is also wide, meaning you can sit however you want. Bucket-style chairs, like the Secretlab Omega, make sitting in any alternative postures pretty uncomfortable, so we like and appreciate that Noblechairs has put some thought into this, meaning you have the freedom to sit however you like.
The backrest has a comparatively little padding to its competitors, and in our testing, we've found that some can find it to be too firm. However, an overly plushy backrest does tend to encourage poor posture, and given that this variant of the Noblechairs Epic lacks cushion, the firm backrest is a good design choice.
Every chair has its own break-in period, where you mess around with all of the settings to find the most comfortable position for you, and the Noblechairs Epic Copper Edition delivers in droves. You can tilt, recline, adjust the height, and configure the armrests. so you can tailor the chair to your specific preferences. It takes a bit of fiddling as with other chairs, but it's worth doing so you can enjoy an effortless gaming experience going forward.
The maximum 11-degree tilt combines with the backrest recline angle range of 90° to 135° resulting in some of the broadest adjustment options we've seen in any gaming chair. Essentially, regardless of your weight, height, or build, you'll find a setting on this chair that is both supportive and comfortable. Full marks to the Epic Copper Edition here.
Materials
The Copper Edition of the Noblechairs Epic is only available with Noblechairs' synthetic leather upholstery. But, don't fret as the chair still feels very premium. It's soft, with a confident quality to the upholstering that leaves it tight, without worrying us about stretching the fabric.
The faux leather is a medium-light grey. In-person, it's akin to elephant skin. It pairs well with the copper-colored stitching, which nicely highlights the edges of each panel of fabric. If you look closely at the perforated backrest, there are small sparkly flecks of copper hidden within, it adds a delightful touch of depth to an otherwise solemn color scheme.
The adornments on the chair are not made with actual copper. Furthermore, the copper-colored grommets that live behind each shoulder are actually, not copper, either. Instead, you get some cheap-feeling plastic finished in a copper color. This is a disappointing cost-saving measure for a chair that is marketed as a 'limited edition'. The Noblechairs Epic Copper Edition also fails to compete, with the lack of included cushions, which is standard for competing manufacturers such as Secretlab.
The remaining copper accents are located adjacent to the base, the sections that are uncovered as you raise the armrests have a mirror finish copper-colored metal finish that feels pleasingly cold and solid to the touch. Implementation of this material in place of the disappointing plastic on the grommets would have given this chair some unparalleled visual prestige.
Build quality
Immediately after sitting in the Noblechairs Epic Copper Edition, it inspires confidence through the strength of its materials. The vast majority of the chair feels sturdy, robust, and premium. There are a few dodgy bits, admittedly, but the good outnumber the bad by a wide margin.
The fabric and stitching are amongst the highest quality that we've seen from any brand of gaming chair. After being used by many people across the office, the faux leather showed no signs of wear and tear, and it still retains a fresh-out-of-the-box look to it at time of writing. We are confident that this material will withstand the test of time very well.
As with the Secretlab Titan EVO 2022, we childishly attempted to yank the stitching out, and the EPIC Copper Edition was equally as impervious to our juvenile test. The only issues we have with the build quality are the aforementioned nasty plastic of the grommets and armrests. They are perfectly functional and hold the user's chosen adjustments flawlessly, but they feel less-than-premium and rattle around quite a bit. It's a common flaw among gaming chairs and is something that their biggest competitor, Secretlab manages to do near perfectly and to our knowledge, only Secretlab has managed to design armrests that don't feel overly shaky.
Ergonomics
Regardless of your chair preferences, be they soft or firm, racer-esque or office-demure, ergonomics, is important. Given that you're reading a review of a gaming chair, it's a safe assumption that you spend probably a little too much time sitting down, meaning that this is one of the most crucial aspects of any gaming chair.
Lumbar support
The unfortunate thing about the Epic Copper Edition is the lack of lumbar support. The structure of the chair has some modicum of lumbar support built-in. However, the lack of adjustable support like the Noblechairs Hero Series, or an included lumbar pillow like the Secretlab Omega isn't a great look, as other chairs of this price point come with further support by comparison.
Neck support
The lack of included cushion or any other alternative neck support is problematic, as your head and neck are both left worse off unless you purchase the pillows separately at additional cost, which is a shame at the RRP that Noblechairs purports for the Epic Copper Edition.
Armrests
Luckily you don't have to purchase these, unlike if you wanted neck support. The Armrests are fully adjustable to an industry-standard degree. This means up/down, forward/backward, and rotation both in and out. This means you can ensure that your elbows and shoulders are in a healthy and comfortable position with these. We found these to be simple, but effective with no specific frills to speak of.
Final verdict
The comfort and adjustability options proved by the Noblechairs Epic Copper Edition have fully impressed us, and the ergonomics are sound for a healthy seating experience, even if you don't get a neck pillow or fully-adjustable lumbar support. The copper color scheme catches the eye and sets this chair apart from the competition. It's just such a shame that Noblechairs chose not to elevate the Epic Copper Edition by providing consumers with a lumbar cushion and neck support, which is seen on even the cheapest of gaming chairs.
Additionally, the copper sections being primarily made from plastic is unfortunate. Should it have been named the Epic Plastic Edition, instead? In all seriousness, making these trimmings from metal would make the Noblechairs Epic Copper edition a truly impressive gaming chair. The build process was just about as easy as it gets, which is a stark contrast from cheaper chairs. Equipped with decent build quality, the fabric choices are industry-leading and we're confident they will stand the test of time.
noblechairs Epic Copper Edition gaming chair
Backrest angle range
90° to 135°
---