Cyberpunk 2077 System Requirements & Gaming PC Specs
Updated: May 17, 2022 10:17 pm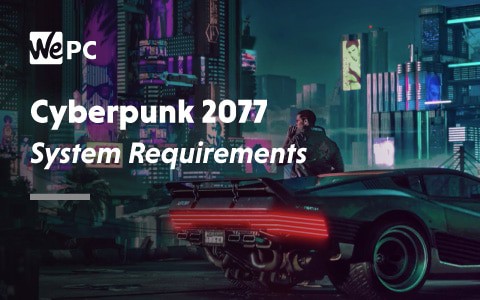 Cyberpunk 2077 is easily one of the most anticipated games of 2020, having been in development for many years, all eyes are on CD Projekt Red to deliver the ultimate sci-fi action RPG. They've grown a lot since they started The Witcher series, and this hugely ambitious game is poised to be their next smash hit. It has already broken all kinds of records, having more than a million players on Steam within six hours of launch!
Cyberpunk 2077
Graphics Card FPS Performance Results
Note: we received a copy of Cyberpunk 2077 through CD Projekt Red. We are using the latest Nvidia drivers (460.79) and have been benchmarking furiously with all the cards below. We will be compiling all our results and putting them here shortly, so be sure to visit back for all the data.
MSI Gaming X Trio 3090
MSI Gaming X Trio 3080
MSI Gaming X Trio 3070
Gigabyte 3060Ti / Zotac 3060Ti
ASUS Radeon 6800
XFX 6800XT / Sapphire 6800XT
XFX RX 570 / 580 / 590
Asus ROG Strix 5700XT
5600XT
5500XT
MSI Gaming X Trio 2080Ti
MSI Gaming X Trio 2080 Super
MSI Gaming X Trio 2070 Super
Gigabyte 2060 Super
1660Ti
1650
1080Ti
We have already seen that Cyberpunk takes advantage of the capabilities of high-end game rigs, with ray traced lighting effects and other advanced visual effects, but what level of hardware will constitute the baseline for running Cyberpunk 2077? CD Projekt Red has released the official system requirements, so you can check out how your rig measures up against the official game specifications now.
Or you can head over to our builds page if you're looking for a guide to assembly yourself a new gaming PC. Now is a great time to think about upgrading, and Cyberpunk 2077 would be a fantastic first big game to push your new PC with.
In the future, we hope to have a tool up and running that will scan your PC automatically and determine what components it has under the hood. This should simplify the process considerably. As of writing, the utility is still in development, but rest assured we'll make a song and dance of it once available.
If you're looking to pick up Cyberpunk 2077, checkout ENEBA for great prices on the PC and Xbox versions of the game.
Cyberpunk 2077 Game Details
Release Date: 10th December 2020 (PC, PlayStation 4, Xbox One, Google Stadia) OUT NOW!
System Requirements:

High

Genre:

Role-playing game

Developer:

CD Projekt Red

Publisher:

CD Projekt
Cyberpunk 2077 is an upcoming open-world RPG title from the developer behind the massively successful The Witcher series.
Inspired by the tabletop role-playing game of the same name, Cyberpunk 2077 is set in the dystopian metropolis of Night City, California. This teeming megacity is broken down into six districts each with their own unique socio-economic and cultural flavor. Ruthless gangs, corporate behemoths, wealthy suburbanites, and hackers mingle in a melting point of technology, transhumanist ideals, violent crime, corruption, and blinding neon where pretty much anything goes.
The player takes on the role of a freelance mercenary of sorts named V, and through first-person gameplay, explores the horizontal and vertical limits of this towering city on the periphery of the American continent.
V can be customized based on a wealth of skills, attributes, and stats ranging from technologically-replicated body modifications, physical appearance, class (netrunner, techie, and solo) each with their own specialty, and weapon perks.
CD Projekt Red has a reputation for creating the most immersive action-RPG world's we've seen this generation and Cyberpunk 2077 looks to follow in that established tradition.
Alongside, Cyberpunk 2077 promises brutal melee combat, heated firefights, breakneck speed vehicle chases, a full day-night cycle, dynamic weather, and a world that reacts to the player's actions and decisions – an RPG the likes of which we've never seen before, or at least, it appears that way.
The Secretlab Cyberpunk 2077 edition gaming chair is currently available in their Omega and Titan 2020 versions, as seen below:

*Prices are subject to change
Cyberpunk 2077: Minimum System Requirements
CPU:

Intel 15-3570K / AMD FX-8310

RAM: 8 GB RAM
HDD:

70 GB of space (SSD recommended)

GPU: Nvidia GeForce GTX 780 or AMD Radeon RX 470
OS:

Win 7 64

Direct X: Version 11
Screen Resolution: 1080p
Network: Broadband Internet Connection
Cyberpunk 2077: Recommended System Requirements
CPU: Intel Core i7-4790 or AMD Ryzen 3 3200G
RAM: 12 GB RAM
HDD:

70 GB SSD

GPU:

NVIDIA GeForce GTX 1060 or AMD Radeon RX 590

OS:

Win 10 64

Direct X: Version 12
Screen Resolution: 1080p
Cyberpunk 2077 Minimum System Requirements – PC Build
If you're looking to build a PC, or even upgrade some components, to be able to play Cyberpunk 2077 – here's what you need to get your hands on. The minimum requirements should allow you to play the game at 1080p and 60FPS.
CPU
53%
GPU
RAM
Cyberpunk 2077 Recommended System Requirements – PC Build
To be able to run Cyberpunk at high settings, with reliably solid performance, you'll want to go for components along these lines.
CPU
GPU
RAM
How to get ray tracing in Cyberpunk 2077
If you want to maximize the visual effects in Cyberpunk 2077, with all the advanced graphical features, and high levels of image quality, we recommend that you pick up one of Nvidia's latest RTX GPUs, such as the RTX 3080.
What Gaming PC Do We Recommend?
Depending on what you're budget is, and what level of performance you're looking at, these are the builds that we'd recommend for anyone planning to upgrade specifically for Cyberpunk:
Minimum (budget) 1080p
CPU:

AMD Ryzen 5 2600

RAM:

8 GB

GPU:

Nvidia GeForce GTX 1660 Super
Recommended (mid-range) 1440p

CPU:

AMD Ryzen 5 3600X

RAM:

16 GB

GPU:

GeForce RTX 2060 Super
Overkill (High-end) 4K
CPU:

AMD Ryzen 9 3900X

RAM:

32 GB

GPU:

GeForce RTX 2080 Ti
If Cyberpunk 2077 doesn't run like a dream with these specifications, even at 4K, then we are in for a rude awakening on release date this April.
---